Whether they were resignations or thinly veiled dismissals is unclear. But the appointments on August 12 of caretaker ministers for the Oil and the Industry and Mines portfolios confirmed the result.
Departing Oil Minister Vaziri-Hamaneh was made a presidential adviser on oil and gas.
No new post was announced for the outgoing Industries and Mines Minister Tahmasebi.
The president appointed Ali Akbar Mehrabian, an official charged with the implementation of gasoline-rationing plans, as the acting industries and mines minister. He picked Gholamhussein Nozari, a deputy oil minister and head of the National Iranian Oil Company, to be acting oil minister.
Why Now?
There has been much speculation over the departures. AP suggested that both ministers had resisted some of the president's intended changes at their ministries -- including personnel changes or appointments that included presidential allies or confidants.
Several commentators said Vaziri-Hamaneh was not keen on the president's frequent promises to uncover and root out a purported "oil mafia" -- officials or state-affiliated businessmen who have allegedly used their connections to earn fortunes on the sidelines of grand oil-sector deals. AP quoted Tehran-based observer Said Shariati as saying on August 13 that Vaziri-Hamaneh's removal may have been a response to the unpopularity of recent gasoline rationing.
Reuters noted on August 13 that the Oil Ministry was also accused of agreeing to provide Pakistan and India natural gas through the "Peace Pipeline" project at a disadvantageously low price. Vaziri-Hamaneh recently rejected claims by parliamentarians that Iranian negotiators had agreed to sell gas at a 30 percent discount. He said there has been no agreement on price, so no discount could have been given. The daily "Etemad" cited regional gas sales as a factor suggesting Vaziri-Hamaneh had been removed. The same paper on August 13 observed that Vaziri-Hamaneh had also failed in the past two years to attract investment from major international oil companies.
Reuters quoted an unnamed Oil Ministry official as saying that, in the end, Vaziri-Hamaneh simply never enjoyed presidential favor -- he was appointed as a safe and technocratic choice in 2005, after parliament rejected three initial Ahmadinejad nominees as unfit for what is seen as a technical and specialist ministry. The daily "Etemad" suggested that Ahmadinejad would like to appoint a closer ally to help him eliminate what he's referred to as the "oil mafia" and to be seen to put oil money on people's "dinner tables." It quoted a deputy head of the parliament's Energy Committee, Hossein Afarideh, as saying that Vaziri-Hamaneh was "never approved by the government." He added that he "expected [Vaziri-Hamaneh] to be removed much sooner than this."
Industrial Woes
The outgoing industry and mines minister, Alireza Tahmasebi, has faced more concrete problems. Tehran-based economist Said Lailaz wrote in "Etemad" on August 13 that figures provided in recent years by Iranian Central Bank hinted at weak -- and declining -- industrial output. Lailaz wrote that the growth in the Persian year to March 2007 of the value of industrial output was the lowest in seven years despite significant state investment each of the past two years. Lailaz forecast continuing industrial decline, leading him to conclude that "for the first time since the [Iran-Iraq war of 1980-88], the engine of Iran's economy, the industrial sector, has effectively broken down." Lailaz did not lay the blame solely on Tahmasebi; on the contrary, he pointed out the role of what he described as "contradictory" government policies. He said the government apparently preferred to pour money into its own job-making schemes, rather than into existing industrial enterprises. Lailaz also argued that industry was hurt by the government's tampering with tariffs, and by its liberalization of some imports while the prices of some domestically made goods were fixed. Moreover, he noted the inflationary effect of the spending of billions of petrodollars inside the country. Lailaz wrote that Tahmasebi might, of course, have objected, or resisted government moves, or resigned earlier. One foreign-based website that covers events in Iran, rooz.com, observed on August 13 that Tahmasebi had been reluctant in the past two years to cite figures for the industrial and mining sectors, and was inclined to blame problems on a "mischievous" press.
The ministerial removals were criticized on August 13 by centrist politician and Expediency Council member Mohammad Hashemi. Hashemi said that it was illogical to disrupt the public administration and undermine two key economic ministries halfway through the presidential term (2005-09). He warned that cabinet-level changes could destabilize the ministries, prompting job-security concerns among ministry staff members. Given the criticism, it is notable that Hashemi -- a brother of Expediency Council Chairman Akbar Hashemi-Rafsanjani -- used to run state television and radio.
Broader Presidential Agenda
President Ahmadinejad has made no secret of his desire for a number of changes in the government structure. He has effectively abolished the state budgeting and economic planning body, and merged it with the presidency. He has also called for changes in the banking system, and recently fixed interest rates against the advice of bankers and economic bodies like the Money and Credit Council. His finance minister, Davud Danesh-Jafari, has stated the government's intention to merge numerous state councils and committees -- like the Money and Credit Council -- into four or five councils. Alireza Tahmasebi had dismissed as rumor reports of a planned merger of the Trade and Industry ministries, "Hamshahri" reported on August 7. The aim of such changes is ostensibly to make the state economic and decision-making apparatus a more malleable -- and more efficient -- instrument in the hands of an executive branch that is determined to control key aspects of the economy in order to serve certain social and political goals.
The administration's envisaged changes might come to affect other ministries. President Ahmadinejad on August 12 told officials in Tehran that the Foreign Ministry requires a different structure to better serve key foreign policy principles. Ahmadinejad couched the change in a broader effort to "change in step with [Iran's] global responsibility." He said that goal included the spread of what he described as justice and "kindness" around the world, and changing "the structure of international relations in the interests of nations," "Hamshahri" reported on August 13.
Ahmadinejad has repeatedly demonstrated that he does not avoid radical moves out of any fear of subsequent criticism. The daily "Aftab-i Yazd" has pointed out in several recent editorials that parliament has frequently criticized the president but -- in the end -- voted for many or most of his initiatives. So Ahmadinejad might have come to see such criticism for what it is: talk.
He might thus proceed with further changes and reappointments intended to empower his radical government.
Assessing Ahmadinejad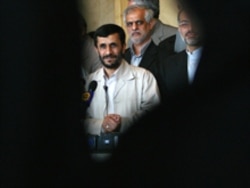 President Ahmadinejad in parliament (ISNA photo)


Mohammad Maleki, the first head of Tehran University following the Islamic revolution, says he doesn't believe the students' criticism of the government constitutes a revolution.
"What is going on right now is that because [the government] cannot tolerate the students' criticism, they try to prevent it by shutting down universities and by threatening professors and students," Maleki says. "What they are currently doing is in my opinion, and in the opinion of many professors, aimed at creating an atmosphere of fear and terror among professors and students to stop them from openly criticizing the government."
Ali Niku Nesbati, a member of the Office to Foster Unity, Iran's largest pro-reform student group, says that during Ahmadinejad's presidency, the disciplinary committee has issued warnings to 523 students for political activism. He adds that over the past year alone, more than 1,700 students have been "marked with stars" and subsequently encountered difficulties when applying for graduate degrees. (Ahmadinejad's government has reportedly adopted a "star rating" system for student activists and gives regime critics between one and three stars, depending on the perceived threat they pose.)
Nesbati says what is noteworthy is that "as the government is faced with more problems and is unable to resolve them, we are encountering more repression."

"As we have witnessed over the past few months, more pressures have been exerted on women, workers, and teachers," Nesbati says. "The same obviously applies to students."
(Nesbati was imprisoned on July 9, 2007. He made the above statements before his imprisonment.)
Culture
Abbas Marufi, an Iranian writer and publisher based in Berlin, says never in Iran's history has the book market faced tougher circumstances than today.
"The government has laid the foundations for the destruction of good and professional publishing in Iran," he says, adding that the government has created a situation that is exploited by "pseudo-publishers" -- as he describes them -- who are in the business solely to profit by publishing books for which they can get subsidies.
Marufi says that over the past two years, the Ministry of Culture and Islamic Guidance has even started to revoke publishing rights issued by previous governments.
Ebrahim Nabavi, a journalist and satirist, says the book-publishing sector today faces circumstances similar to those 10 years ago. According to Nabavi, it has become very difficult to get accreditation for new publications or to renew old licences.
But Sadegh Samii, director of publishing house Ketabsara, says many government critics are simply ignorant of the rules and regulations of publishing in Iran.
"We Iranians are in the habit of blaming others for our own failures," says Sadegh Samii, director of the publication "Ketabsara." "So if at any point in time, I'm unable to select a good book and find a qualified translator, I put the blame on the Ministry of Culture and Islamic Guidance. But this is unjustified."
Samii says over the past 27 or 28 years, the ministry's regulations have not changed at all. But he admits that the regulations have been applied more or less strictly during different periods.
Economics
Siamak Taheri, a newspaper journalist based in Iran, says Ahmadinejad was elected two years ago on the promise that he would bring social equality to the country. At the time, many Iranians were dissatisfied with their country's economic situation and had lost faith in the reformists' ability to improve it, so they pinned their hopes on Ahmadinejad.
"But the economic situation has worsened under Ahmadinejad and unemployment and corruption have increased." Taheri blames the situation on the makeup of the government.
Political
Shirin Ebadi, Iranian human rights lawyer and Nobel Peace Prize winner, says she has not seen the government "take any positive action in the fight against high prices and in the struggle for prosperity, which is an important human right." Ebadi says this has prompted workers and teachers to hold strikes, which unfortunately have led to arrests and interrogations.
Women
Nahid Kheirabi, a journalist and women activist based in Iran, says one of the "reactionary viewpoints of the 9th republic has been the renewed discourse on the legitimacy of temporary marriage," which according to Kheirabi constitutes "an insult and a threat to humanity, to both men and women." But Kheirabi says society's negative reaction to the concept of temporay marriage has forced Ahmadinejad's people to retreat on this issue.