GORI, Georgia; August 14, 2007 (RFE/RL) -- An elderly man, wearing a shabby, old-fashioned suit and a friendly smile, plays "Gaprindi Shavo Mertskhalo," a sad Georgian folk song about a small black swallow.
Josef Stalin is said to have loved this tune, and the man is happy to play it. "I know other tunes that Stalin liked," he says. "But this one was his absolute favorite."
The man is sitting in the courtyard of the Josef Stalin Museum in Gori, a small industrial town in central Georgia best known for being the birthplace of the man who ruled the USSR with an iron fist for three decades until his death in 1953.
Like many other provincial towns in Georgia, Gori bears signs of widespread unemployment and poverty. Gone are the days when Communist Party officials, schoolchildren, and tourists flowed into the city to visit the birthplace of the Soviet leader -- a small cottage, now covered with a large, pantheon-like structure, that is an integral part of the Stalin museum's attractions.
Selective Memory
"Stalin was born in this little house, and lived here for four years," tour guide Mzia Nauchashvili tells a Ukrainian tourist as they stand inside the modest home. "The Jughashvili family never owned a house. They rented this one as well. The house has a basement, where Stalin's father worked as a shoemaker."
The visitor stops her, puzzled. "So all three of them lived in here? Where did they sleep? This place is so tiny."
"Do you think they lived better than poor people?" asks Nauchashvili, before moving on to other displays featuring documents, photographs and personal belongings of the Soviet leader.
Other museum highlights include a round room where Stalin's death mask lies on red velvet, and an opulent train carriage that belonged to the Romanov royal family before Stalin adopted it for his personal use.
The museum today has an outdated and somewhat deserted appeal. But museum managers claim the number of visitors is once again on the rise after a long decline, and that some 15,000 people visited the museum in 2006, more than double the previous year's figure.
The tone of the museum tours remain largely unchanged since Soviet times. People in the former Soviet Union now speak openly about the tens of millions of Soviet citizens who were killed, imprisoned, or forcibly displaced under Stalin's rule. At the Gori museum, however, this part of the Soviet leader's legacy remains expunged from the record.
"These aspects are not reflected in our lectures -- except for a few phrases, perhaps," says Nauchashvili, who has worked at the Stalin museum for 31 years and says she regards Stalin as a "genius" -- albeit one who may have made "mistakes."
"I've been working here for many years, and I'm from a family that was directly affected by the purges," she adds. "My great-grandmother's brother and husband were both persecuted. But she still respected Stalin. When I asked her why, she would say, 'My child, such things did take place. It was inevitable in those times; [Stalin] had both friends and enemies.'"
"We Can't Deny The Good Things He Did"
Judgment is also suspended elsewhere in Gori, including the city's Orthodox Christian high school, located at the site where Stalin attended a seminary as a young boy. On the freshly painted walls of the newly restored school, Stalin's photograph is featured among pictures of the former seminary's spiritual and cultural leaders.
Gela Mchedlishvili, an administrator at the school, sees no apparent conflict in honoring a political leader responsible for the death of millions alongside religious leaders whose faith was often the target of Stalin's repressions.
"God's will, and this school, teach us forgiveness," Mchedlishvili says. "This man might have done a few bad things, but some say he may also have done thousands of good things. The destruction was a result of the era. We can't blame it on individuals. Maybe there was oppression, the destruction of churches, the persecution of priests... and of course, in 1937 people were being executed. But we can't deny the good things he did as well."
Not all Gori residents see Stalin as a hero, however. David and Zurab, two men in their late 30s, spent the early years of Georgian independence as members of the country's national liberation movement.
For them, Stalin is nothing short of a traitor. Sitting in a popular coffeehouse that faces a statue of the Soviet leader in Gori's central square, they recall his famous quote dismissing Georgia as "that small area of Russia," and say he brought nothing but suffering and destruction to his homeland.
"I always regarded Stalin as Georgia's enemy. History demonstrates it very well, if you look at it in depth," says David.
"It's a kind of idol-worship that we can't seem to get rid of," Zurab adds. "It's fashionable to like Stalin because he was from Gori. But if he was from somewhere else, perhaps people in Gori wouldn't even like him."
Local Hero
Other Gori residents manage a paradoxical embrace of both nationalist sentiment and a positive view of Stalin.
For people like Temuri, a 30-year-old man sitting with his girlfriend in the garden surrounding the Stalin museum, living in the place where the notorious Soviet leader was born is a point of pride.
"I am very proud of it. I lived in Germany for two years, and I was proud that I was from the town where Stalin was born," he says."You know why? Because such personalities are rare. The come once in a thousand years."
A pensioner enjoying a balmy summer evening in the museum garden is even more unrestrained in his admiration for the man many in Gori call the "great son of a small nation."
"My father was persecuted, but I still love Stalin, he says. "Stalin didn't have anything to do with my father's arrest. People were informing on each other at that time. Stalin was a genius, and we live in a genius's town. A man from such a small republic created a huge empire -- the Soviet Union!"
Some observers say such sentiments reflect the reluctance on the part of some Georgians to acknowledge the grimmer aspects of the Soviet legacy -- particularly the complicity and participation of Georgians in Soviet rule. For many, it is preferable to look back on the Soviet period as one of "occupation," and that Stalin's atrocities were directed not at Georgia, but at the "occupying" nation -- the USSR.
Such revisions have not been necessary in Gori, where unwavering faith in Stalin appears to have frozen the city in time.
Historian Eldar Mamistvalishvili, who has written a two-volume book on Gori, says overwhelming nostalgia has rendered Stalin as a legend, rather than a figure of history who can be analyzed and judged.
"We should say that this was just one stage in our society's development, and now it's in the past. Now it's just a museum. It is not right to continue living like this," Mamistvalishvili says.
"To dream about having him back -- 'if only [Stalin] could take a look at what's happening! What a pity he's not here!' Until this is over, and we start to perceive this building as a museum rather than a shrine, things won't be right."
(RFE/RL correspondents Goga Aptsiauri and Natalia Tchourikova contributed to this story.)

Visiting Stalin's Birthplace
Visiting Stalin's Birthplace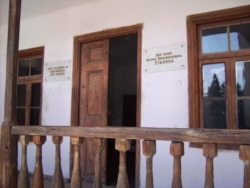 A DICTATOR'S HOME: The days when Communist Party officials and schoolchildren came to Gori in droves are long gone. But the small industrial city in central Georgia still offers plenty of insight into the life of its most famous resident -- Josef Stalin. RFE/RL correspondent Natalia Tchourikova takes us on a photographic tour of the dictator's home town.