According to media reports, aides to Iraq's three other grand ayatollahs have also been threatened. "The assassination operations are organized and big resources are allocated [to carry them out], which makes it difficult to accuse any local side of being behind" the attacks, the assistant director of the office of Muhammad Bahr al-Ulum, Muwaffaq Ali, told the London-based "Al-Hayat" this week.
Sources in Al-Najaf have told RFE/RL that nongovernmental-organization and civil-society leaders have also been targeted for assassination in and around the holy city of Al-Najaf in recent months. Police and local residents say it is unlikely that any one group of perpetrators are responsible for the killings.
Ali al-Najafi, son and spokesman for Grand Ayatollah Bashir al-Najafi, told "Al-Hayat" that the attacks have prompted senior ayatollahs to question the allegiance of employees and volunteers, many of whom arrived in Al-Najaf before the 2003 war and stayed on, assuming duties that put them in close contact with the senior clerics, the newspaper reported on August 11.
Al-Najafi said that Al-Hawzah (seminary) students had also received threats from unknown persons, prompting the ayatollahs to arrange for scores of students to leave Iraq to study at hawzahs in Lebanon and Syria.

Tribal Differences?
Meanwhile, Hazim al-A'raji, an aide to radical Shi'ite cleric Muqtada al-Sadr, told "Al-Hayat" that recent assassinations of police personnel in Al-Najaf targeted those officers involved in the January
security operations against the Army of Heaven
. At the time of the incident, Iraqi officials accused the group of planning to storm the city of Al-Najaf, seize the holy shrine of Imam Ali, declare that Al-Mahdi had returned, and assassinate senior Shi'ite clerics, including Grand Ayatollah al-Sistani.
But Sunni media reported that the operation actually targeted Shi'ite tribesmen from the Al-Hawatimah tribe opposed to Iranian interference in Iraqi affairs. When another Shi'ite tribe, the Al-Khaz'al tribe, came to the defense of the Al-Hawatimah tribe and fighting escalated, Iraqi security forces called in U.S. air support, which led to 263 deaths and 500 injured. Both tribes were fiercely opposed to the Shi'ite-led government's close ties to Iran.
The tribes were also opposed the two main parties comprising the ruling United Iraqi Alliance -- the Supreme Council for the Islamic Revolution in Iraq (now the Supreme Islamic Iraqi Council) and the Al-Da'wah Party -- which control Al-Najaf and its security forces.

Inner Circle Violated
Among the aides to al-Sistani that have been killed in recent months was Sheikh Rahim al-Hasnawi, a representative of the cleric in the city's Al-Mishkhab district. Al-Hasnawi was gunned down outside his home by unidentified assailants on June 6.
Then on July 20, Abdallah Falak, the financial manager of al-Sistani's office, which collects a religious tax known as khoms, was stabbed to death in his office. The tax brings in hundreds of thousands of dollars a year and is used to fund Al-Najaf seminaries and charities.
Falak's killing caused alarm amongst al-Sistani's inner circle, not just for its brutality, but because the crime was carried out inside al-Sistani's compound in Al-Najaf. The compound was thought to be impenetrable, and the killing occurred just yards from the ayatollah's personal residence.
On August 1, Iraqi authorities announced the arrest of Haydar Abbud Musa, Falak's personal servant. Citing Al-Najaf officials, Al-Sharqiyah television reported that the knife used to kill Falak and $170,000 stolen from the office were found in Musa's possession at the time of the arrest, although other sources in the holy city said that the money in Falak's safe had not been touched during the attack, and that the key to the safe was still in its place when police arrived to investigate the murder.
Another aide to al-Sistani, Kazim al-Budayri, who was in charge of protecting the Imam Ali Shrine, was gunned down along the Al-Kufah-Al-Najaf road days after Falak's killing. Al-Budayri served as a personal guard to al-Sistani before his appointment to guard the shrine, one of the holiest to Shi'ite Muslims.
On August 2, Sheikh Fadil al-Aqil, a representative of the ayatollah, was gunned down outside his home. Then on August 6, a bomb went off at the entrance to the Al-Mustafa Cultural Institution in nearby Al-Hillah, a foundation funded by al-Sistani.
Those inside Al-Najaf's inner circle of Iraq's senior ayatollahs are surely questioning why those around al-Sistani have been targeted. The most obvious answer is that someone is trying to send a message to the cleric.
A host of possible perpetrators exist, and as local officials admit, it may be difficult to identify the source behind the attacks. All agree however, that the perpetrators are well-trained and well-funded.
Long List Of Enemies
The fact that Iraq's most senior Shi'ite religious leaders have been critical of the government and its failures is reason enough for certain parties to target them.
Al-Sistani has gone to great lengths to distance himself from Iraqi politics in the post-Hussein era, and is rarely seen in public. However, Iraq's Shi'ite leaders visit him regularly to inform him of changing political events and to seek his blessing for their programs and positions. For one to be able to say that al-Sistani "blesses" a political plan or program brings immense credibility to the project at hand.
The cleric and other senior ayatollahs are also seen as the voice of moderation in Iraq, calling for unity among Shi'a and Sunnis. In recent months, however, the representatives of senior ayatollahs who often convey the positions of the ayatollahs through their Friday Prayer sermons have criticized Iraq's Shi'ite leaders, questioning their commitment to the Iraqi people.
For example, cleric Ahmad al-Safi, an al-Sistani representative in Karbala, criticized political leaders in late June for their inability to bring security to the country. During a Friday Prayer sermon on June 29, al-Safi asked why, after $19 billion was put into building up Iraqi security forces, that security remains elusive. He criticized security forces for their inability to secure the borders, and called on politicians to take their positions seriously and end sectarianism. A week later, he called on politicians to stop hiding in the Green Zone and get out among the people.
Other possible perpetrators are Al-Qaeda-affiliated groups, or loyalists/breakaway supporters of Muqtada al-Sadr. The Shi'ite cleric has riled Al-Najaf's clergy over the past 4 1/2 years because of his behavior and threats -- both direct and indirect -- against the Al-Najaf hierarchy.
Iran is another likely suspect in the targeting of Al-Najaf's senior religious leaders for a number of reasons, such as al-Sistani's unwillingness to assert himself into the political process, following the Vilayat-i faqih model of Iran's clerical government, or the cleric's criticism of foreign interference in Iraq.
International, Domestic Shi'ite Rivalries
There is also the age-old rivalry between Qom and Al-Najaf as the center of Shi'ite Islam. Should Al-Najaf return to its standing as the center of Shi'ism, Iran's influence, both political and religious, will be tremendously reduced. Already, Qom has arguably lost millions of dollars due to the reopening and expansion of Shi'ite seminaries in Iraq since the fall of the Hussein regime, not to mention tourist dollars.
Moreover, the criticism of senior ayatollahs of Iraqi political developments and the direction in which the country is heading is troublesome for Iran, which continues to work to spread its influence across southern Iraq.
The targeting of religious figures, politicians, academics, and security officials in central and southern Iraq also comes as a result of growing fractures within the Shi'ite community. Intra-Shi'a rivalries, particularly between al-Sadr's Imam Al-Mahdi Army and Al-Badr forces loyal to senior Shi'ite leader Abd al-Aziz al-Hakim, appear to be escalating again.
As the groups vie for power and control, and continue to clash over their vision of a future Iraq, killings will continue, and the religious establishment may not be immune from this battle.
"We are going to witness an escalation of this conflict...the Shi'a were never united, the question now is who's going to represent the Shi'a," Mustafa al-Ani, an analyst with the Dubai-based Gulf Research Center, was quoted by the "Christian Science Monitor" on August 13 as saying. For Iraq's Shi'ite clerics, that reality has already hit home.
Muqtada Al-Sadr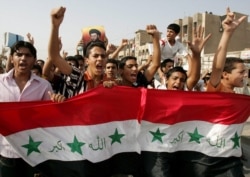 Al-Sadr supporters demonstrating against the U.S. presence in Iraq in October 2006 (epa)

A RADICAL CLERIC. Shi'ite cleric Muqtada al-Sadr is a key figure in Iraq. He heads the Imam Al-Mahdi Army militia and a political bloc that is prominent in parliament and the government. His ties to Iran have also provoked concerns in some quarters.
RELATED ARTICLES
Cracking Down On Al-Sadr No Easy Task
Political Parties Consider Uniting Against Al-Sadr
Is Al-Sadr Stirring The Pot Or Promoting Peace?
Radical Shi'ite Cleric Calls For Shi'ite-Sunni Unity
Al-Sadr Reasserts Himself -- This Time Against Coreligionists