Raghad Hussein is believed to be living in Jordan with her children.
The request is for police to aid in locating Hussein and extraditing her to Iraq. Iraqi officials want to prosecute her for inciting violence and "terrorism."
Called "Little Saddam" for her aggressiveness, Raghad Hussein has publicly defended her father.
Jordanian officials have said she is living in Jordan at the invitation of Jordanian King Abdallah.
(AFP)
Iraqi Insurgent Media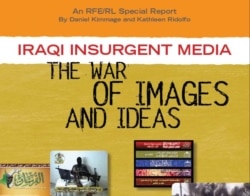 GETTING THE MESSAGE OUT. RFE/RL analysts Daniel Kimmage and Kathleen Ridolfo have produced a book-length study on the media efforts of the insurgency in Iraq and on how global jihadists are exploiting those efforts to spread their destructive message around the world....(more)
DOWNLOAD
(pdf format):
Part One Part Two Part Three Part Four Part Five



THE COMPLETE STORY: RFE/RL's complete coverage of events in Iraq and that country's ongoing transition.