Raffi Gregorian told the Bosnian daily "Dnevni avaz" that Al-Qaeda "sympathizers" in the country are prepared to help hide agents as well as provide the group with funding and false documents.
Gregorian serves as deputy to Miroslav Lajcak, the top international representative in Bosnia-Herzegovina.
Hundreds of fighters from Islamic countries entered Bosnia to fight with the Bosnian Muslim army against Serbs and Croats during the 1992-95 war.
(AFP)
While The World Was Sleeping
While The World Was Sleeping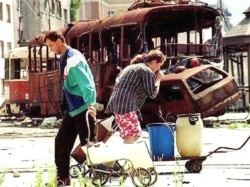 Sarajevo residents fetch water amid war debris in July 1993(AFP)
THREE LONG YEARS: RFE/RL correspondent Vlado Azinovic has also written a book entitled "While The World Was Sleeping," which documents the failure of the international community to respond promptly to the civilian tragedies of the Bosnian War. The book and the audio reports based on it that were produced by RFE/RL's South Slavic and Albanian Languages Service are available online in Bosnian.