The International Crisis Group (ICG) notes in a new report that Karimov's term has officially ended with no handover in sight, but speculates that any eventual battle to succeed him could turn violent. It urges other countries to act now to mitigate the possible effects.
In the report, "Uzbekistan: Stagnation and Uncertainty," the ICG says the country remains a serious risk to itself and others.
ICG Vice President Jon Greenwald told RFE/RL's Uzbek Service today that the 69-year-old Karimov's term ended formally in January, but he shows no sign of stepping down. Greenwald said there is neither a clear successor nor a succession process.
"On the surface, the political situation appears rather calm at the moment. But there are dangers ahead, because the control of President Karimov is obviously limited by his own duration in office and his own health," he said. "There is no indication of any system by which there would be a succession to Karimov."
Potential For More Violence
Greenwald said an eventual power struggle could well include violence. He said the human-rights situation remains grave, with persecution that targets human-rights activists, journalists, and the political opposition.
Hundreds of Uzbeks fled violence in the eastern city of Andijon in May 2005, when rights groups and eyewitnesses accuse Uzbek security forces of killing hundreds of unarmed protesters.
Meanwhile, Greenwald said, a tightly controlled economy drives off investors and exacerbates grinding poverty.
"The Andijon uprising and massacre and the repression that followed from that were symptomatic of a situation that's been deteriorating for a number of years," he said.
"The economic situation is very poor. The control of the economy is ironed by the government and there's a great gap between the handful of people around the regime who were doing very well economically and the mass of people who were going very poorly," Greenwald added.
Can Sanctions Change Anything?
Greenwald said the European Union should maintain the limited sanctions it has imposed following events in Andijon, including a visa ban on some Uzbek officials and an arms embargo.
He said the international community should also target the assets abroad of Uzbekistan's political elite.
At the same time, Greenwald acknowledged that sanctions have neither forced an international probe into Andijon nor otherwise moderated government policies.
"We honestly feel, at this point, that there is a great deal of interest on the part of the government in Tashkent to reestablish relations with most of the outside world," he said. "And there is not a great deal of leverage that anyone has -- either the European Union or the United States, or anyone else -- to have much impact on policies of the government."

Report's Suggestions
The ICG report urges the international community to help Uzbek refugees and labor migrants so they do not become easy recruitment targets for Islamic radicals.
The group argues that education abroad should be sustained, and Uzbekistan's neighbors should be helped in their ability to withstand any shocks that might result from turmoil inside Uzbekistan.
The ICG says that improving training for border guards and police on issues including refugee law and protection is important.
It also describes an urgent need to improve emergency-response systems and to encourage alternative transport and energy arrangements for those countries vulnerable to Uzbek pressure.
Andijon Anniversary Conference
Andijon Anniversary Conference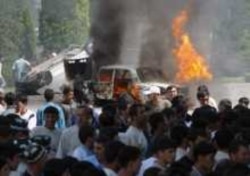 Violence in Andijon, Uzbekistan, on May 14, 2005 (epa)


TALKING ABOUT ANDIJON:
On May 9, 2006, RFE/RL, the National Endowment for Democracy, and U.S.-based human rights organizations cohosted a conference on the May 2005 events in Andijon and their aftermath in Uzbekistan and throughout the region. The first panel featured Andijon eyewitness
GALIMA BUKHARBAEVA
, National Endowment for Democracy Fellow
NOZIMA KAMALOVA
, RFE/RL Central Asia analyst
DANIEL KIMMAGE
, and others. The second panel featured presentations by U.S. Senator
JOHN MCCAIN
and U.S. Congressman
CHRISTOPHER SMITH
, who used the forum to announce they had introduced legislation calling for sanctions and other measures against the government of President Islam Karimov.
LISTEN
Listen to the Andijon conference. Part One (70 minutes):
Real Audio
Windows Media
Part Two (60 minutes):
Real Audio
Windows Media
The Uzbek government's response:
Real Audio
Windows Media


THE COMPLETE STORY: A dedicated webpage bringing together all of RFE/RL's coverage of the events in Andijon, Uzbekistan, in May 2005 and their continuing repercussions.
CHRONOLOGY
For an annotated timeline of the Andijon events and their repercussions, click here.