Forty-year-old Jamshid Karimov, who worked for the London-based Institute for War and Peace Reporting (IWPR), has been in psychiatric confinement in the central Uzbek city of Samarqand for nearly a year.
He is the son of Uzbek President Islam Karimov's elder brother, Arslan, who died in a car crash 18 years ago.
"Only one person decides the fate of Jamshid Karimov. That is President [Islam] Karimov."
Jailed Critic
Before his imprisonment, Karimov was an outspoken critic of his uncle and his government.
The journalist first disappeared in September 2006 after being under close government surveillance for months in his native town of Jizzah, some 100 kilometers from Samarqand. His family told RFE/RL at the time that authorities cut his long-distance and international phone connections and seized his passport in August 2006.
He left his home on September 12, 2006, to visit his mother at the hospital and disappeared only to be found in a psychiatric clinic nearly two weeks later.
In April 2007, his family learned that Karimov's detention was extended for a further six months, thus dashing hopes of a forthcoming release.
On July 30, the independent uznews.net quoted the journalist's friends as saying that Karimov's health has been deteriorating. They say he has been depressed and has suicidal thoughts. They add that his eyesight has worsened considerably while in the institution.
Afraid To Talk
Karimov's 71-year-old mother, Margarita, was contacted by RFE/RL today, but has refused to speak to the media. She did admit that she fears retaliation from the authorities. She also said her phone has been bugged. She has been able to visit her son and is the main source on his current condition.
Ulugbek Khaidarov is a friend and former colleague of Karimov. Speaking to RFE/RL's Uzbek Service from Kazakhstan, Khaidarov said he is concerned about Karimov's health.
"Jamshid's condition has worsened very much," he said. "I don't know if it is because of the medicine he's been given or something else. He does not see very well. He is not allowed to wear glasses while reading newspapers. His glasses are taken from him and given only at certain times of the day. I know Jamshid very well. He used to wear glasses but never complained about his sight. But now he cannot see very well. His condition is very bad. I got very upset when I heard about it."
Karimov's fate has attracted the attention of international organizations and foreign individuals.
NGOs Urge Release
The International PEN, an organization that defends freedom of expression, has called on Uzbek authorities to release the journalist, saying that Karimov has been held in detention with "no justification."
"Our concern is that the psychiatric detention is a means to punish Karimov, who has been writing and reporting quite extensively on human-rights issues. And we are concerned that this is the means to keep him quiet," said Sara Wyatt, a London-based program director of International PEN's Writers in Prison Committee.
Wyatt also said the organization discussed Karimov's plight as well as "severe abuses of freedom of expression" in Uzbekistan during the 73th PEN Congress held on July 4-11 in Dakar, Senegal.
Richard McKane, an English poet and a member of English PEN's Writers in Prison Committee, has also expressed concern over Karimov's fate. McKane used verse to defend the journalist, held in a "psikhushka," or psychiatric clinic.
A Poem For Jamshid
"I wrote to you at this cafe before,
your isolation in psikhushka makes me cherish freedom all the more,
for it moves me to the very core -- it's your monstrous Uncle who is crushing you with his paw."
McKane said he hopes to attract Western governments' attention to the dire human-rights situation in Uzbekistan and some neighboring countries.
"What goes on in Uzbekistan, Kazakhstan, Kyrgyzstan, Azerbaijan is, in fact, much closer to us than we know," he said. "I am trying to get across the fact that there are human rights [violations] in Uzbekistan. It's very important, and the West should realize that. The West should realize that those countries are not just oil and gas. They are people with souls."
The New York-based Committee to Protect Journalists says there are as many as five journalists imprisoned in Uzbekistan, including Karimov.
Yusuf Rasul, another Uzbek journalist who was forced to flee Uzbekistan after constant harassment, also knew Karimov personally.
Rasul says the fact that Karimov is a presidential nephew makes things worse for him. "Only one person decides the fate of Jamshid Karimov," he said. "That is President Karimov."
(RFE/RL's Uzbek Service correspondents Khurmat Babadjanov and Sadriddin Ashurov contributed to this report.)
The Erosion Of CIS Press Freedom
The Erosion Of CIS Press Freedom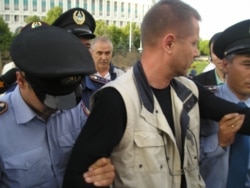 Prominent Kazakh journalist Sergei Duvanov being arrested in Almaty last month (RFE/RL)
FROM BAD TO WORSE. RFE/RL and Freedom House experts held a panel discussion at which they analyzed the erosion of press freedom in many CIS countries. According to Freedom House rankings, in 1994, six of the 12 CIS countries were rated "partly free"; by 2004, 11 of the 12 were rated "not free."
LISTEN
Listen to the entire briefing (about 70 minutes):

Real Audio
Windows Media
SUBSCRIBE
For regular news and analysis on media issues throughout RFE/RL's broadcast area by e-mail,
subscribe to "RFE/RL Media Matters."