RSF Calls On Uzbekistan To Release Journalists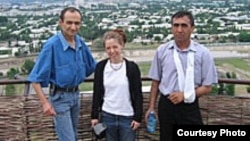 Karimov (left) and Khaidarov (right) with a colleague (Courtesy Photo) PRAGUE, October 2, 2006 (RFE/RL) -- Reporters Without Borders (RSF) today called upon Uzbek authorities to release Ulugbek Khaidarov, an independent journalist from the central city of Jizzakh who was arrested earlier this month on charges his relatives say are fabricated.
The Paris-based press-freedom watchdog in a statement also condemned the persecution of another Jizzakh reporter, Jamshid Karimov, who has been missing for three weeks and was reportedly sent to a psychiatric hospital in Samarkand.

"These are practices worthy of the Soviet era, when people were treated as mentally ill when all they did was voice their disagreement with the official line," the RSF statement said.

Karimov, who is the nephew of the Uzbek president, disappeared on September 12 after visiting his mother at Jizzakh hospital.

Khaidarov was arrested two days later and charged with extortion. Investigators say he faces up to 10 years in prison.

Both men have been working for foreign-based media critical of the Uzbek government.