Uzbek President's Nephew Reported Missing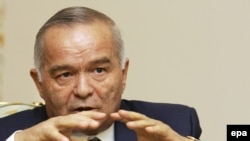 Uzbek President Islam Karimov (file photo) (epa) TASHKENT, September 19, 2006 (RFE/RL) -- RFE/RL's Uzbek Service reports the nephew of President Islam Karimov has gone missing.
Jamshid Karimov, an independent journalist based in the central city of Jizzakh, disappeared on September 12 after visiting his mother in hospital.
Jamshid Karimov's mother, Margarita, says she fears her son may have been arrested by the National Security Service.
The 39-year-old Jamshid Karimov has worked for many years as an independent journalist, contributing articles on Uzbekistan to the opposition-leaning news website ferghana.ru and the London-based Institute for War and Peace Reporting (IWPR). His articles have been highly critical of his uncle.
He is reported to have connections to another Jizzakh reporter, Ulugbek Khaidarov, who was arrested on September 14 on corruption charges. Khaidarov's relatives have dismissed the charges as fabricated.
Jamshid Karimov was beaten up on the streets of Jizzakh two years ago by unidentified assailants.
He is the son of President Karimov's elder brother Arslan, who died in a traffic accident 17 years ago.