In an interview with RFE/RL's Turkmen Service today, U.S. Senator Sam Brownback (Republican, Kansas) urged authorities in Ashgabat to answer the questions raised by Muradova's death and allow for a thorough investigation.
He also called upon Turkmen authorities to lift the tight police surveillance and information blockade imposed on Muradova's relatives.
"Clearly the Turkmen authorities need to allow the family to speak out and speak with the family," he said. "This is just a matter of human decency. Here's a woman who has a family, who has died at a relatively young age and in highly questionable circumstances after a bogus trial. The Turkmen government needs, just as a matter of decency to the family, to allow the family to look into this, to allow the family to have some closure on this matter. We will be pushing the Turkmen government to allow the family these modest rights as a family of a person who has passed away."
Brownback is the cochairman of the U.S. Commission on Security and Cooperation in Europe, also known as the Helsinki Commission.
The commission on September 15 expressed its "sadness" and "deep concern" at Muradova's death.
The 58-year-old journalist died while serving a six-year prison sentence on charges of illegally possessing ammunition. Her children were notified of her death on September 14.
Rights groups have described her August 25 trial as a parody of justice and condemned her death.
Two human rights activists, Annakurban Amanklychev and Sapardurdy Khajiev, were tried with Muradova and sentenced to six and seven years in jail on similar charges.
(RFE/RL's Turkmen Service)
Human Rights In Turkmenistan
Human Rights In Turkmenistan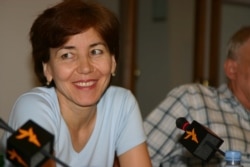 Tajigul Begmedova speaking at RFE/RL in Prague on July 21 (RFE/RL)
LIFE UNDER NIYAZOV:
On July 21, RFE/RL's Prague broadcasting center hosted a presentation by
TAJIGUL BEGMEDOVA,
chairwoman of the Bulgaria-based Turkmenistan Helsinki Foundation for Human Rights (THF). Begmedova discussed the human rights situation in Turkmenistan under President Saparmural Niyazov, focusing on the arrests in June of THF activists and RFE/RL Turkmen Service correspondent Ogulsapar Muradova. Begmedova, who graduated from the Institute of Economy in Moscow in 1987, fled Turkmenistan in 2002 and lives in exile in Sofia.
LISTEN
Listen to the complete presentation (36 minutes; presentation in Russian with consecutive translation into English):

Real Audio
Windows Media
Some RFE/RL Coverage Of Human Rights In Turkmenistan:
Media Coverage Of Leader Distracts From Real Problems
Authorities Cast Wide Net In Conspiracy Allegations
Embattled Turkmen Writer Honored Abroad
RFE/RL Correspondent Recounts Arrest
ARCHIVE
RFE/RL coverage of Turkmenistan.


THE COMPLETE STORY: Click on the icon to view a dedicated webpage bringing together all of RFE/RL's coverage of Kazakhstan, Kyrgyzstan, Tajikistan, Turkmenistan, and Uzbekistan.