The trial of RFE/RL Turkmen correspondent Ogulsapar Muradova, aged 58, and her two codefendants -- human rights activists Annakurban Amanklychev, 35, and Sapardurdy Khajiev, 47 -- opened today at 10 a.m. local time.
The hearings took place behind closed doors at the Azatlyk district court in Ashgabat, where Turkmen dissidents are usually tried. Azatlyk -- which means freedom or liberty -- is also the name of RFE/RL in the Turkmen language.
"[Muradova] denied the charges brought against her, and the presiding judge used that to give her a heavier sentence." -- Turkmen Helsinki Foundation Chairwoman Tajigul Begmedova
Tried Without Lawyers
Tajigul Begmedova, who chairs the exiled Turkmen Helsinki Foundation (THF) rights group and is Khajiev's sister-in-law, tells RFE/RL's Turkmen Service the trial was over in no time.
"According to the information we got from their lawyers, Sapardurdy Khajiev was sentenced to seven years in a high-security jail," she said. "Annakurban Amanklychev got seven years in a regular prison and Ogulsapar Muradova -- six years, also in a regular prison. They were all charged with possessing ammunition. Ogulsapar [Muradova] denied the charges brought against her, and the presiding judge used that to give her a heavier sentence. Sapardurdy [Khajiev] also denied the charges brought against him."
All three defendants were arrested in mid-June and have spent more than two months incommunicado in a National Security Service pretrial detention center.
THF activist Ammanklychev was mentioned in a June 19 televised address in which National Security Minister Geldymukhammed Ashirmukhammedov claimed to have foiled an alleged foreign-funded plot to destabilize the country.
Conspiracy Theories
Ashirmukhammedov said the purported conspiracy also involved a number of Western diplomats.
Yet, none of these allegations ever resurfaced in the run-up to the trial.
Human rights defenders say the arms and ammunitions reportedly found in Amanklychev's car upon his arrest were likely planted by security officials.
The also blame authorities for other violations committed during the pretrial detention of the three codefendants.
Talking to RFE/RL's Turkmen Service ahead of today's court hearings, Jean-Francois Julliard, of the Paris-based Reporters Without Borders (RSF) media watchdog, expressed his concerns.
Rights Groups Worried
"We are really worried about this trial," Julliard said. "We already know that the three people who are being [tried] today will be sentenced to very long prison terms because we know that justice is not independent at all in Turkmenistan. Nobody can access this trial. Nobody can have a look at the prisoners. We don't know in which [physical] condition they are. The trial is closed to the press [and] to diplomats. So we are already sure that this trial and the judgments will not be fair."
What THF chairwoman Begmedova said after the trial confirmed Juillard's apprehensions.
"According to our information, the trial was behind closed doors," Begmedova said. "The court's building was cordoned off by armed soldiers. We also learned that all other pending court cases that were expected to be heard today were suspended. Neither Annakurban [Amanklychev]'s lawyer, nor Ogulsapar [Muradova]'s had been officially notified about the beginning of the trial. The lawyers were not allowed to meet with their clients or to bring them water and food [during their pretrial detention]."
Begmedova further said only Judge Guncha Khajikulieva, State Prosecutor Murad Muratliev, and the defendants were allowed to attend the hearings.
"Many people tried to attend today's trial," she said. "But all the streets leading to the court's building were closed. Relatives had arrived at 9 a.m., hoping they would be allowed into the courtroom. But they were not allowed in. They didn't allow anyone in. Even the lawyers were authorized to meet with their clients for just one minute before being kicked out by soldiers."
Begmedova said lawyers would appeal today's verdict.
RSF said today in a statement it was "disgusted" by what it called the "absurd, unjust and disgraceful" sentences imposed on the three defendants "in a country where press freedom does not exist."
The group had said in an earlier (August 23) statement it was "appalled by the attitude of the Turkmen authorities, who are flouting the basic rules of justice and human rights with impunity."
Human Rights In Turkmenistan
Human Rights In Turkmenistan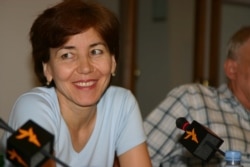 Tajigul Begmedova speaking at RFE/RL in Prague on July 21 (RFE/RL)
LIFE UNDER NIYAZOV:
On July 21, RFE/RL's Prague broadcasting center hosted a presentation by
TAJIGUL BEGMEDOVA,
chairwoman of the Bulgaria-based Turkmenistan Helsinki Foundation for Human Rights (THF). Begmedova discussed the human rights situation in Turkmenistan under President Saparmural Niyazov, focusing on the arrests in June of THF activists and RFE/RL Turkmen Service correspondent Ogulsapar Muradova. Begmedova, who graduated from the Institute of Economy in Moscow in 1987, fled Turkmenistan in 2002 and lives in exile in Sofia.
LISTEN
Listen to the complete presentation (36 minutes; presentation in Russian with consecutive translation into English):

Real Audio
Windows Media
Some RFE/RL Coverage Of Human Rights In Turkmenistan:
Media Coverage Of Leader Distracts From Real Problems
Authorities Cast Wide Net In Conspiracy Allegations
Embattled Turkmen Writer Honored Abroad
RFE/RL Correspondent Recounts Arrest
ARCHIVE
RFE/RL coverage of Turkmenistan.


THE COMPLETE STORY: Click on the icon to view a dedicated webpage bringing together all of RFE/RL's coverage of Kazakhstan, Kyrgyzstan, Tajikistan, Turkmenistan, and Uzbekistan.