RFE/RL Reporter On Trial In Turkmenistan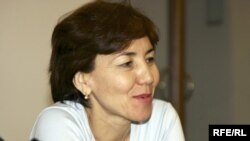 Tajigul Begmedova of the Turkmen Helsinki Foundation has been of the voices calling for the activists' release (file photo) (RFE/RL) PRAGUE, August 25, 2006 (RFE/RL) -- The trial of RFE/RL correspondent Ogulsapar Muradova and two human rights activists, Annakurban Amanklychev and Sapardurdy Khajiev, began in Ashgabat today.
The three, arrested in June, have spent more than two months in prison incommunicado, RFE/RL's Turkmen Service reports.

The charges against Muradova and Amanklychev remain unknown.

Khajiev, who is also a relative of Tajigul Begmedova, the chairwoman of the Bulgaria-based Turkmen Helsinki Foundation rights group, is accused of illegal weapon possession.

Muradova has had no access to legal counsel, which RFE/RL's acting president, Jeff Trimble, has condemned as a violation of Turkmen and international law.

Rights groups, including Amnesty International, have urged Turkmen authorities to release the three, saying there were "credible allegations" they had been ill-treated in custody.

The Paris-based Reporters Without Borders media watchdog said on August 23 it is "appalled by the attitude of the Turkmen authorities, who are flouting the basic rules of justice and human rights with impunity."