The security minister's announcement followed reports that two Turkmen human rights activists and a freelance reporter for RFE/RL's Turkmen Service had been detained in Asghabat over the weekend.
Annakurban Amanklychev and Yelena Ovezova of the Bulgarian-based Turkmen Helsinki Foundation (THF) were arrested on June 16 and June 18, respectively.
Authorities also detained RFE/RL freelancer Ogulsapar Muradova and Sapardurdy Khajiev, the brother-in-law of THF Chairwoman Tajigul Begmedova, on June 18.
Security officials also led away -- and continue to hold -- Muradova's three adult children, who were detained on June 19.
The London-headquartered rights organization Amnesty International has condemned the arrests.
Fearing For Detainees' Safety
The THF said in a statement released today that it is concerned some of the detainees might have been physically abused or tortured.
The group claims security officers forced Muradova to tell her relatives by walkie-talkie to hand over her computer, mobile telephone, and fax machine to the authorities. The THF quoted relatives as saying that Muradova sounded "incoherent," as if she had been drugged.
Begmedova told RFE/RL from Varna in Bulgaria that she has received alarming news regarding another of the detainees.
"While Amanklychev's relatives were standing in the courtyard [of the building where the detainees were taken], they asked an Interior Ministry official who was not involved in this -- most people there are from the Security Ministry, and Interior Ministry people are afraid of even approaching that building -- they asked [the official] about Amanklychev. He told them: 'You wouldn't recognize him. After three days of uninterrupted questioning, he's simply unrecognizable,'" Begmedova said.
The Allegations
Addressing a cabinet meeting chaired by President Saparmurat Niyazov, National Security Minister Ashirmukhammedov said on June 19 that it was Amanklychev's arrest that helped his services foil the alleged opposition plot.
"Annakurban Atabalovich [Amanklychev] was detained," Ashirmukhammedov said. "During the search of his car, several weapons and ammunition were discovered."
In a statement on June 18, the THF said security officers were seen throwing an unidentified parcel into Amanklychev's car. The group quoted an unidentified official at the district prosecutor's office as suggesting the parcel likely contained "drugs or ammunition."
National Security Minister Ashirmukhammedov claimed that exiled opposition figures sought by authorities in Turkmenistan masterminded the alleged conspiracy.
He singled out a former central-bank chief, Khudaiberdy Orazov; a former ambassador to Turkey, Nurmukhammed Khanamov; a former foreign minister, Avdy Kulyev; and Parakhat Yklymov, who is the brother of a suspected plot leader who was tortured to death in a Turkmen prison three years ago.
Officials See Orange
The security minister also implicated THF Chairwoman Begmedova and her husband, former central-bank Deputy Chairman Annadurdy Khajiev.
"They invited [Amanklychev] to Ukraine in order to teach him how to collect intelligence and conduct sabotage technique in Turkmenistan, as well as [to teach them] methods used during Ukraine's Orange Revolution," Ashirmukhammedov charged.
The THF's Begmedova dismisses Ashirmukhammedov's accusations as "nonsense." She said both THF activists arrested over the weekend went recently to Ukraine, but certainly not with a view to helping harming Turkmenistan's national security:
"We at the Turkmen Helsinki Foundation state that Amanklychev and Ovezova went [to Ukraine] in the summer of 2005 for a human rights training session," Begmedova said. "This session was organized by the Helsinki Foundation for Human Rights in Poland and the Donetsk Memorial organization, which trains people in monitoring human rights violations. Is this really something illegal?"
In comments to RFE/RL's Turkmen Service, representatives of the Helsinki Foundation for Human Rights in Poland and the Donetsk Memorial group denied any involvement in Turkmen politics. They said their respective groups deal solely with human rights and civil-society issues.
Western 'Collaborators'?
To back his claims, Security Minister Ashirmukhammedov displayed video equipment that he said a visiting French television crew had left recently for Amanklychev. He claimed the equipment was going to be used to shoot a documentary film that would falsely portray life in Turkmenistan.
The security minister said that Western nationals were suspected of conspiring with the alleged plotters. Ashirmukhammedov specifically referred to French diplomats and British citizens. He also named a regional representative of the Organization for Security and Cooperation in Europe (OSCE).
Ashirmukhammedov said the heads of the French and OSCE missions in Ashgabat would be notified personally if those suspicions were confirmed. He also said the foreign diplomats should repent, or face deportation.
Neither the French Embassy in Ashgabat nor the French Foreign Ministry in Paris were immediately available for comment. OSCE representatives in the Turkmen capital declined to comment on Ashirmukhammedov's allegations.
RFE/RL Journalist Grateful For Support
RFE/RL Journalist Grateful For Support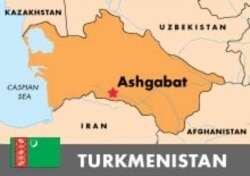 A statement from MERET KHOMMADOV:
Respected brothers and dear listeners,
I am grateful for the struggle you have made for our release. I am especially grateful to international NGOs, international human rights organizations, the Congress of the United States, the Embassy of the United States in Turkmenistan, the Organization for Security and Cooperation in Europe (OCSE), the management of RFE/RL, and my collogues working for the Turkmen Service of RFE/RL. I want to say thank you very much for all of your humanitarian support. May God bless you.
Regarding me, I don't think that I am a particularly strong man. I am a simple and ordinary man.
Commenting on the [recent] events, I don't blame anyone. I would say and think that such misunderstandings could happen in any country. And I also believe that bad and good things happen by God's will. I think a dispute between two Muslim should not last longer than it take a wet piece of cloth to get dry. In the words of our Turkmen elders, I hope these events produce results in the interests of both sides.
I have a request for the leadership of Turkmenistan: If I am allowed to work as a reporter, as a journalist, I promise to pay all of my taxes, and also I will try to give truthful information to my listeners based on democratic and objective principles of journalism.
Thank you,
Meret Khommadov
Turkmenistan
March 23, 2006
See also:
Turkmen Authorities Release RFE/RL Correspondents
Rights Group Criticizes Arrest Of RFE/RL Turkmen Journalists
Activists Decry Arrests Of RFE/RL Journalists


For regular news and analysis on media issues throughout RFE/RL's broadcast area by e-mail, subscribe to "RFE/RL Media Matters."