After news of Muradova's death emerged on September 14, the U.S. Broadcasting Board of Governors issued a resolution calling for an immediate, thorough, and impartial investigation.

The board, which oversees the operations of RFE/RL and VOA, said Turkmen authorities failed to provide Muradova with needed medical care.

Turkmen security officials have claimed Muradova died of natural causes.

But rights groups and relatives say there are indications she might have been killed after beginning a six-year jail sentence following her conviction for illegal possession of ammunition.

Western rights groups -- including Human Rights Watch, Amnesty International, and Reporters Without Borders -- have blamed the government of Turkmen President Saparmurat Niyazov and described the charges as fabricated and her trial as a mockery of justice.

Relatives who were allowed to see Muradova's body at the morgue in Ashgabat said it bore marks on the neck and a "large wound" on the forehead.

Muradova, who was in her late 50s, was detained in mid-June along with several human rights activists.
Human Rights In Turkmenistan
Human Rights In Turkmenistan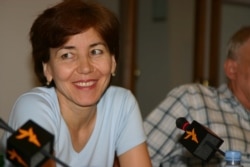 Tajigul Begmedova speaking at RFE/RL in Prague on July 21 (RFE/RL)
LIFE UNDER NIYAZOV:
On July 21, RFE/RL's Prague broadcasting center hosted a presentation by
TAJIGUL BEGMEDOVA,
chairwoman of the Bulgaria-based Turkmenistan Helsinki Foundation for Human Rights (THF). Begmedova discussed the human rights situation in Turkmenistan under President Saparmural Niyazov, focusing on the arrests in June of THF activists and RFE/RL Turkmen Service correspondent Ogulsapar Muradova. Begmedova, who graduated from the Institute of Economy in Moscow in 1987, fled Turkmenistan in 2002 and lives in exile in Sofia.
LISTEN
Listen to the complete presentation (36 minutes; presentation in Russian with consecutive translation into English):

Real Audio
Windows Media
Some RFE/RL Coverage Of Human Rights In Turkmenistan:
Media Coverage Of Leader Distracts From Real Problems
Authorities Cast Wide Net In Conspiracy Allegations
Embattled Turkmen Writer Honored Abroad
RFE/RL Correspondent Recounts Arrest
ARCHIVE
RFE/RL coverage of Turkmenistan.


THE COMPLETE STORY: Click on the icon to view a dedicated webpage bringing together all of RFE/RL's coverage of Kazakhstan, Kyrgyzstan, Tajikistan, Turkmenistan, and Uzbekistan.