The Bulgarian-based Turkmen Helsinki Foundation (THF) says security officers are reportedly trying to extract confessions from the two, Annakurban Amanklychev and Yelena Ovezova, that they are part of a plot to destabilize the country.
Amanklychev and Ovezova are among seven people arrested recently. Among the detainees are correspondent of RFE/RL's Turkmen Service, Ogulsapar Muradova, and her three adult children.
THF says today reports indicate Muradova and her son Berdy are also being ill-treated.
The group says all seven detainees are being kept incommunicado and that relatives are forbidden to bring them food, medicine, or clothes.

RFE/RL Journalist Grateful For Support
RFE/RL Journalist Grateful For Support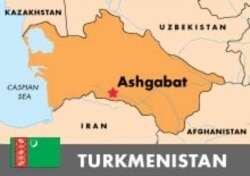 A statement from MERET KHOMMADOV:
Respected brothers and dear listeners,
I am grateful for the struggle you have made for our release. I am especially grateful to international NGOs, international human rights organizations, the Congress of the United States, the Embassy of the United States in Turkmenistan, the Organization for Security and Cooperation in Europe (OCSE), the management of RFE/RL, and my collogues working for the Turkmen Service of RFE/RL. I want to say thank you very much for all of your humanitarian support. May God bless you.
Regarding me, I don't think that I am a particularly strong man. I am a simple and ordinary man.
Commenting on the [recent] events, I don't blame anyone. I would say and think that such misunderstandings could happen in any country. And I also believe that bad and good things happen by God's will. I think a dispute between two Muslim should not last longer than it take a wet piece of cloth to get dry. In the words of our Turkmen elders, I hope these events produce results in the interests of both sides.
I have a request for the leadership of Turkmenistan: If I am allowed to work as a reporter, as a journalist, I promise to pay all of my taxes, and also I will try to give truthful information to my listeners based on democratic and objective principles of journalism.
Thank you,
Meret Khommadov
Turkmenistan
March 23, 2006
See also:
Turkmen Authorities Release RFE/RL Correspondents
Rights Group Criticizes Arrest Of RFE/RL Turkmen Journalists
Activists Decry Arrests Of RFE/RL Journalists


For regular news and analysis on media issues throughout RFE/RL's broadcast area by e-mail, subscribe to "RFE/RL Media Matters."