The court also jailed two human rights activists, Annakurban Amanklychev and Sapardurdy Khajiev, on similar charges. Both received seven-year sentences. The court also ruled that Khajiev should serve his sentence in a high-security jail.
Turkmen Helsinki Foundation, an exiled rights group, says in a statement that the trial only lasted a few minutes and was held behind closed doors.
Tajigul Begmedova, who chairs the Turkmen Helsinki Foundation, told RFE/RL's Turkmen Service that lawyers for the defendants have told her they plan to appeal the verdict.
Begmedova added that "many people tried to attend today's trial, but all the streets leading to the court building were closed."
Relatives were not, she said, allowed to see the clients and the lawyers were restricted to one minute with their clients.
All three defendants were arrested in June and spent more than two months in prison incommunicado.
Muradova has had no access to legal counsel, which RFE/RL's acting president, Jeff Trimble, has condemned as a violation of Turkmen and international law.
Rights groups, including Amnesty International, have urged the Turkmen authorities to release the three, saying there were "credible allegations" they had been ill-treated in custody.
The Paris-based Reporters Without Borders (RSF) media watchdog group says it is "disgusted" by what it calls the "absurd, unjust, and disgraceful" jail sentences.
Human Rights In Turkmenistan
Human Rights In Turkmenistan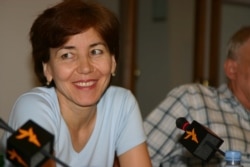 Tajigul Begmedova speaking at RFE/RL in Prague on July 21 (RFE/RL)
LIFE UNDER NIYAZOV:
On July 21, RFE/RL's Prague broadcasting center hosted a presentation by
TAJIGUL BEGMEDOVA,
chairwoman of the Bulgaria-based Turkmenistan Helsinki Foundation for Human Rights (THF). Begmedova discussed the human rights situation in Turkmenistan under President Saparmural Niyazov, focusing on the arrests in June of THF activists and RFE/RL Turkmen Service correspondent Ogulsapar Muradova. Begmedova, who graduated from the Institute of Economy in Moscow in 1987, fled Turkmenistan in 2002 and lives in exile in Sofia.
LISTEN
Listen to the complete presentation (36 minutes; presentation in Russian with consecutive translation into English):

Real Audio
Windows Media
Some RFE/RL Coverage Of Human Rights In Turkmenistan:
Media Coverage Of Leader Distracts From Real Problems
Authorities Cast Wide Net In Conspiracy Allegations
Embattled Turkmen Writer Honored Abroad
RFE/RL Correspondent Recounts Arrest
ARCHIVE
RFE/RL coverage of Turkmenistan.


THE COMPLETE STORY: Click on the icon to view a dedicated webpage bringing together all of RFE/RL's coverage of Kazakhstan, Kyrgyzstan, Tajikistan, Turkmenistan, and Uzbekistan.