UN 'Very Disturbed' At Death Of RFE/RL Correspondent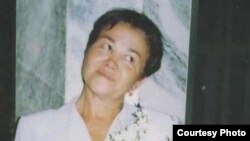 Ogulsapar Muradova at her son's wedding in 2004 (Courtesy Photo) PRAGUE, September 15, 2006 (RFE/RL) -- The UN's human rights office says it is "very disturbed" by the death in custody of a correspondent for RFE/RL's Turkmen Service, Ogulsapar Muradova.
Jose Diaz, a spokesman for the UN High Commissioner for Human Rights, said the UN it is calling on the Turkmen authorities to conduct a "thorough, prompt, and independent investigation into the cause" of Muradova's death.
The Organization for Security and Cooperation in Europe (OSCE) also called on September 15 for an "exhaustive and impartial inquiry" into her death.
Rights groups, including Amnesty International, have also demanded a probe into Muradova's death.
Muradova's children were notified of their mother's death on September 14.
Turkmen security officials said she died of natural causes, but rights groups and relatives say she may have been killed.
Last month, a Turkmen court sentenced Muradova and two codefendants to up to seven years in jail following a 10-minute trial that rights groups described as a parody of justice.