Uzbek Journalists Arrested, Attacked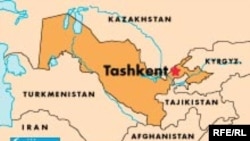 (RFE/RL) PRAGUE, September 18, 2006 (RFE/RL) -- RFE/RL's Uzbek Service and an Uzbek opposition media outlet report that Ulugbek Khaidarov, an independent journalist working in the central city of Jizzakh, has been arrested.
The uzbekinfo.org information website quotes Khaidarov's sister Nortoji as saying her brother was detained on September 14 on charges of accepting $400 in bribes.
Nortoji Khaidarova says her brother was framed.
Khaidarova says a woman approached her brother at a bus stop and put an envelope containing $400 in his pocket. Khaidarov threw the envelope away, but four security officers picked it up and placed him under arrest.
Also last week, the editor in chief of the "Bukhoro Yoshlari" ("Bukhara Youth") newspaper was attacked in the southwestern city of Bukhara.
Saidburkhon Kadyrov was stabbed in his office by a unknown assailant on September 13. His condition is described as serious.