The Migration and Law NGO reports on its website Svetlana Martynova's 22-year-old son was found dead in the central Russian city of Ivanovo on September 14.
Authorities say Aleksandr Martynov died of an overdose. However, Martynova claims her son never took any drugs.
She says her son's face was so swollen and covered with bruises that she hardly recognized him.
One Kyrgyz and 12 Uzbek nationals have been awaiting extradition in an Ivanovo prison cell. Uzbekistan accuses them of helping organize antigovernment protests in Andijon in May 2005.
The Russian Prosecutor-General's Office last month ruled that they should be deported to Uzbekistan. It later suspended the procedure pending a ruling by the European Court of Human Rights.

Andijon Anniversary Conference
Andijon Anniversary Conference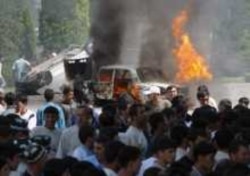 Violence in Andijon, Uzbekistan, on May 14, 2005 (epa)


TALKING ABOUT ANDIJON:
On May 9, 2006, RFE/RL, the National Endowment for Democracy, and U.S.-based human rights organizations cohosted a conference on the May 2005 events in Andijon and their aftermath in Uzbekistan and throughout the region. The first panel featured Andijon eyewitness
GALIMA BUKHARBAEVA
, National Endowment for Democracy Fellow
NOZIMA KAMALOVA
, RFE/RL Central Asia analyst
DANIEL KIMMAGE
, and others. The second panel featured presentations by U.S. Senator
JOHN MCCAIN
and U.S. Congressman
CHRISTOPHER SMITH
, who used the forum to announce they had introduced legislation calling for sanctions and other measures against the government of President Islam Karimov.
LISTEN
Listen to the Andijon conference. Part One (70 minutes):
Real Audio
Windows Media
Part Two (60 minutes):
Real Audio
Windows Media
The Uzbek government's response:
Real Audio
Windows Media


THE COMPLETE STORY: A dedicated webpage bringing together all of RFE/RL's coverage of the events in Andijon, Uzbekistan, in May 2005 and their continuing repercussions.
CHRONOLOGY
For an annotated timeline of the Andijon events and their repercussions, click here.