Soon Asterix found he needed a green seal in order to receive the yellow one. The green seal required a rose certificate, which in turn was issued in exchange for a blue order. For that, he needed a black passport.
But the average Moldovan sees nothing humorous in a system that often requires bribes and numerous trips to the country's various government offices to accomplish even the most minor bureaucratic tasks.
To hear their stories, RFE/RL's Romania-Moldova Service correspondents Valentina Ursu and Elena Moldoveanu joined the lines at the Justice Ministry, the Population Registry Bureau, and a municipal business-registration office in Chisinau:



"I am 70, I need to apply for a passport for my daughter, I have traveled 150 kilometers and I still don't know whether I will get through today. If not, I'll have to think of where to sleep.... And they can still find some papers missing, and they may turn me back, so that I will have to spend another 100 leis from my pension. It's very hard."




"They send us from one place to another."



"You wait in line, you get close to getting in -- and they close!



"One can't do everything they ask of us at once. They send you here, and someone else here sends you someplace else, and now I am waiting on this side. I came to apply for a passport in a one-day-issue procedure, but they told us this was not possible and that we better get on the five-day-issue list. They have thrown us outside and ordered to wait in this line."



Many of the country's bureaucratic rank-and-file are not accustomed to using computers or acquainted with modern methods of providing service. More often than not, it seems many of them still regard citizens as sources of income rather than the principal beneficiaries of the state.


Prime Minister Vasile Tarlev, a leader of Moldova's Communist Party,
tells RFE/RL that the country's bureaucracy is a holdover from the past.
"In Moldova, since it gained independence, only cosmetic reforms have been made, from one election to another," he said. "A great majority [of functionaries] were employees with an old mentality, from the past system, and they have failed to comply with the new requirements. All public employees are in the service of people, of businessmen, of the real sector of our economy -- not the other way round. I shall demand a constructive attitude of public workers toward ordinary people, business people, civil society, NGOs -- an attitude to help them -- not vice versa."
"I wish I could see someone from the government standing up here, in line, just one parliamentarian. Instead of driving up in a limo, leaving contact details, and waiting. Let them come and stand here."


"God help us! I have never seen such chaos and disorder. Everything depends on the leadership. I have heard that 'everything is done for man,' but it seems to me to be to the contrary: everything is done against man."
So, is the state of bureaucracy in Moldova a measure of incompetence or ill will?

"Both," says Chisinau's new mayor, Dorin Chirtoaca, who belongs to the Liberal Party. "Unfortunately, I have noticed in many cases that the subordinates wait for orders. And when the orders are received, they proceed to work with a lot of fanfare, trumpeting 'here is the order from the mayor' -- and then they start building or demolishing, working or waiting."

At the national level, Prime Minister Tarlev singled out a few government structures that are due for reforms. The Fiscal Service is to be overhauled in 2008, he said, in order "to improve the situation and to eliminate as much as possible the human factor."

The Customs Service, he said, has already introduced a new computer system, although he concedes that "it is a bit more difficult with the police service."

In Chisinau, Chirtoaca says efforts to streamline City Hall are already under way. Discussions the mayor has had with the UN Development Program entailed analyzing decision-making processes, assessing the efficiency of local authorities, and developing a unified computer network to simplify document processing.

There is much work to do, Chirtoaca says. The local public administration has become dysfunctional and, at times, overcentralized.

"It is not easy indeed," Chirtoaca says. "At the last sitting of the City Hall we saw that people feel confused when they are asked to get rid of bureaucratic manners, to take the initiative into their hands, and to settle certain problems without their mayor. There are unwritten practices that unfortunately functioned, and which may still be functioning."

Among them, Chirtoaca says, is bribery -- the practice of which the Moldovans RFE/RL spoke with were well aware:

"I am from the small business; I want to open a shop. So, in order to obtain a signature from someone, I need to find people who know that guy, and who would put in a good word for me. And I'll have to pay something. It's been three years that I have been down this road and it is only now that a commission has been formed to provide the signatures. I have spent 30,000 leis for nothing, to buy papers, to pay bribes. Nothing would have worked without this. I gave as much as he demanded, and he wrote something on the paper, signed it. And while I have wasted money, nerves, and time, the commission might still tell me I'm not allowed [to open the shop]."


"I have paid out dollars, euros, and...."


"There are very few offices. Someone must be interested in seeing such lines grow, otherwise they cannot make money."





"If you have the bucks you can get anything -- whether in city hall, or in a passport office, or in the police department."

"If you want to make it fast, you have to drop some cash -- or sit and wait. I have applied for my birth certificate, and I managed to apply on time -- one month, but I came to pick it up 20 days later, and they told me it was missing! I told them: 'look for it!' They looked for it and they found it. I think they were expecting a bribe."
Mayor Chirtoaca recalls a recent incident he encountered at City Hall.
"Someone who wants to build a balcony on the ground floor told me he was asked to pay $4,000 to an intermediary in exchange for the necessary papers from the local public administration," Chirtoaca says. "He was told that all the papers would arrive in his hands and he would only have to start building.... I admit, and I feel 99.9 percent confident, that such things happened and attempts are being made somewhere to continue such practices."
Some have suggested that the low wages paid to those working within the country's bureaucracy help lead to corrupt practices. But Tarlev says the bigger issue is finding competent people who care about the work.
Get In Line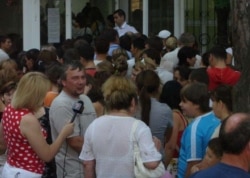 A BUREAUCRATIC EXCHANGE: RFE/RL Romania-Moldova Service correspondent Elena Moldoveanu recently took to the streets to speak to people lined up near the offices of the Population Registry Bureau in Chisinau.
While conducting interviews, she was confronted by the head of the bureau, who asked the correspondent to leave despite the fact that Moldoveanu was not on the bureau's property.
Their exchange grew to include onlookers, additional bureau personnel and, eventually, police...more...
LISTEN
To listen to the exchange (about six minutes), in Romanian,
click here.