Iraqi Shi'a Begin Pilgrimage To Karbala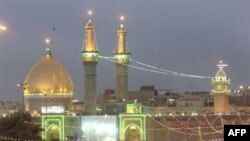 Shi'ite festival in Karbala in 2006 (AFP) August 26, 2007 -- Thousands of Shi'a pilgrims left Baghdad for Iraq's holy city of Karbala today -- 110 kilometers away -- to attend ceremonies marking the birth of Muhammad al-Mahdi, the 12th and last Shi'ite imam.
Such pilgrimages have been the target of sectarian attacks in the past.
One female pilgrim was killed today in a drive-by shooting in southern Baghdad.
Authorities have imposed a partial ban on vehicles in Baghdad in an effort to stop attacks.
(AFP)