Britain Pulls Out Of Al-Basrah Headquarters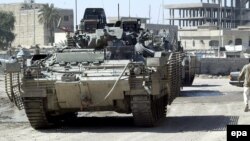 A British tank patroling al-Basrah earlier this year (epa) August 26, 2007 -- The British Army says it withdrew its contingent overnight from a joint headquarters it shared with Iraqi police in Al-Basrah, as part of plans to pull its troops out of Iraq's second city.
Britain had control of security in Al-Basrah since it joined the United States in invading Iraq in 2003.
The British contingent in Iraq has been reduced from about 7,200 last year to about 5,500 now.
(Reuters)