Iran Warns Students Against 'U.S. Contacts'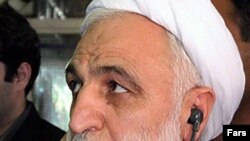 Intelligence Minister Ghloamhussein Mohseni-Ejei is warning Iranian students about contacts with the U.S. administration (Fars) August 26, 2007 -- Iran warned today that the authorities will clamp down on university students who it said are in contact with the U.S. administration and seeking to topple the country's rulers.
Intelligence Minister Gholamhussein Mohseni-Ejei said that students, currently "studying in universities under the guise of being students and have contact with foreigners and White House statesmen," will be confronted.
He said Iran believes they are not university students but are seeking to destroy the system of the Islamic Republic of Iran.
(AFP)