But some of those delivering speeches in Samarkand heaped more attention on a visiting native son than on the fabled city from which he hails.
They included a teacher from Samarkand who was allowed to address the crowd -- and Uzbek President Islam Karimov.
"You recreated Uzbekistan. You recreated Samarkand. You introduced Uzbekistan, its people, and Samarkand to the world," the man said.
"Our people are forever grateful. We are all in a great mood. All of what we have, I declare, is the result of your leadership," he continued. "Dear and honorable Islam Abduganievich [Karimov], we, the people, wish you strength and health and wealth in your efforts to lead our people in the cause of such great achievements. May Allah protect you from evil."
Elections Recede Into Future
Was it mere praise for a leader who has a reputation for ruling with an iron hand? With presidential elections still a mystery despite being scheduled for December, the teacher's speech sounded every bit like a campaign pitch for an incumbent president.
Karimov's second term -- and last, under the current wording of the constitution -- officially expired in January. The Uzbek government chose to ignore that date and focus instead on the part of the constitution that sets the third Sunday of December 2007 as the date of the presidential election.
Next to nothing has been said about those elections, although the constitution requires that some sort of announcement be made by September 23, three months before the third Sunday in December.
Seemingly "unsolicited" statements like the teacher's in Samarkand might indicate that Karimov is already planning to stay.
President-For-Life
Similar appeals have been heard in Central Asia before. This is not the first time such comments by ardent supporters have been employed to such effect.
In October 2004, then-Turkmen President Saparmurat Niyazov made a blusterous request at the annual meeting of a rubberstamp People's Council (Halk Maslahaty).
"Dear People, let me make a plea, if you don't object. I am grateful to you for your proposals. But I say that one person -- a single person alone -- cannot manage everything," Niyazov said.
"Other people are maturing. If you are not opposed, let's hold presidential elections in 2008 or 2009. No, esteemed people, there are other people maturing," he added. "After I turn 70, let me go, because nothing is forever."
The response from the assembled officials was swift -- and fawning -- with repeated calls for Niyazov to remain president for life.
Murad Sopiev, the head of Turkmenistan's farmers' association, quickly spoke up. "Dear people, there cannot even be talk of presidential elections," he said. "Our dear leader, our father, you are our president-for-life, so stay! There should not even be discussion about [elections.]"
Then the head of the state oil company, Saparmurat Valiev, was equally adamant. "We must say 'no' to what our leader says. We do not agree with this request" to leave office, he said. "You were sent to us by the Almighty, and we want you to remain [as president] until the end of your life."
Niyazov, who held the title of president-for-life, died in December.
Kyrgyz Exception?
Someone familiar with Central Asia's recent past might point out that Turkmenistan has always been something of an exception in post-Soviet Central Asia.
But Kyrgyzstan has been generally regarded as more democratic -- or at least less repressive. And in September 2003, a leader of the Kyrgyz Association of Business Entrepreneurs made a similar appeal to then-President Askar Akaev, who was attending an association congress.
The president's final term was due to expire two years later, in October 2005, but association leader Sergei Voronin said his group opposed Akaev's departure.
The association "has charged me with expressing its opinion. Considerable progress has been made in implementing market reforms, but a lot more needs to be done," Voronin declared. "Kyrgyz businessmen believe that reforms already launched should be completed. In light of the president's enormous contribution to the development of a sovereign Kyrgyzstan and his ongoing support of businesses, we are asking you [Akaev] to be the president of our state for another five-year term."
Campaigns to keep Akaev in office were preempted when he was chased from power in March 2005, amid massive protests that followed flawed parliamentary elections.
'Great Leader' To Stay?
Alisher Taksanov once worked at Uzbekistan's embassy in Russia. He became a dissident Uzbek journalist and fled his homeland earlier this year, fearing reprisals from the authorities for his writings. He told RFE/RL's Uzbek Service that the focus on Karimov at the Samarkand celebrations should be viewed as an endorsement for him remaining in office.
"I think that in a year of elections, this event [the Samarkand festivities] is aimed at promoting the president's image -- to say, 'Despite everything, I am still strong [and] I remain a significant figure in Central Asia," Taksanov said, "a person who cannot be ignored, and such a pompous event [the festivities] could only be held under the influence of one person.'"
Uzbekistan has no genuine opposition party, and those opposition figures who remain in the country are under considerable official pressure.
So most observers expect the government to be the first to break the official silence over what should be an imminent presidential election.
Uzbekistan marks 16 years of independence on September 1. The situation surrounding a possible presidential election might become clearer then.
Judging by the presidential flattery at Samarkand's recent anniversary celebrations, Karimov might be staying on for at least a few more years.
(Alisher Sidikov and Farruh Yusupov of RFE/RL's Uzbek Service contributed to this report, as did RFE/RL's Kyrgyz and Turkmen services.)
Building Democracy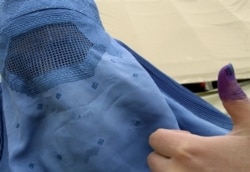 An Afghan woman votes in Kandahar in October 2004 (AFP)
ROWING AGAINST THE TIDE:
National Endowment for Democracy President Carl Gershman and Hudson Institute Senior Fellow John O'Sullivan led an RFE/RL briefing about U.S. efforts to promote democracy around the world, and especially in the Middle East.
LISTEN
Listen to the entire briefing (about 55 minutes):

Real Audio
Windows Media
RELATED ARTICLES
U.S. Reports On Democracy-Promotion Efforts
Is Bush Abandoning Democracy Building In Iraq?
Karen Hughes Urges Dialogue Based On 'Common Values'
SUBSCRIBE
For a regular review of civil-society developments throughout RFE/RL's broadcast region,
subscribe to "RFE/RL (Un)Civil Societies."