The United Nations-sponsored conference in Madrid runs through September 14, and is just one of several key international gatherings on the environment set to take place this month.
Politicians and experts from nearly 200 countries are taking part in the conference.
According to a UN study published in June, desertification affects 200 million people around the world.
The UN warns that some 50 million people could be displaced by desertification within the next decade.
The worst-hit areas are sub-Saharan Africa and Central Asia. And globally, desertification costs an estimated $65 billion a year in lost income.
The Madrid conference's aim is to analyze the phenomenon of desertification around the world, identify funding priorities and adopt a new 10-year "strategic plan." That plan should spell out how to tackle the problem and offer a realistic timetable for achieving goals.
Busy Month On Environment
The gathering comes amid a flurry of international attention on the environment.
Just last week, delegates from 158 nations gathered in Vienna to consider steps toward agreeing a new climate pact to replace the UN's Kyoto Protocol. And later this month, there will be a major gathering on climate change both at the UN in New York and one in Washington hosted by U.S. President George W. Bush.
Speaking in Vienna last week, Yvo De Boer, who heads up the UN office that deals with climate change, said all the attention on the environment reflects a "change of mood" internationally.
"There is a change in mood, there are important countries who say the time for talk has come to an end, the time to negotiate has begun," De Boer said. "But not everyone in the room is saying that yet. And that's why I think the Secretary General's event for one thing is critically important to get us to the momentum that we need."
As for desertification, climate change is seen as just one of several causes of a ravaging process that quickly transforms arable soil into dry wasteland.
One key cause is modern agricultural practices.
Modern farming requires massive amounts of water. That depletes underground aquifers, which are often then filled by seawater. That salinized soil then requires chemical fertilizers to hold onto water. Those chemicals do their own damage to the land, further stripping its ability to absorb rainfall.
Over time, the soil becomes so depleted that it becomes parched desert. And it's happening around the world, from the Aral Sea to the Mediterranean to North America.
Unless action is taken to curb the problem, the UN warns that some 50 million people could be displaced by desertification within the next decade.
Experts in Madrid will be looking for ways to implement land management policies that protect existing flora from overgrazing and unsustainable irrigation practices.
After all, it's easier and much cheaper to prevent the problem than it is to fix it after once-rich land has been transformed into desert.
The Post-Soviet Environment
The Post-Soviet Environment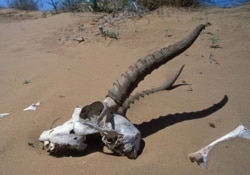 The skull of a male saiga antelope in Kalmykia. Saiga numbers have collapsed disastrously over the last decade. (shpilenok.com)
THE FRAGILE PLANET:
Since the collapse of the Soviet Union, old environmental disasters have come to light and new ones have emerged. War, poverty, and weak central-government control have led to serious environmental problems from Eastern Europe to the Russian Far East. RFE/RL has provided extensive coverage of these important issues and of efforts to cope with them.
RELATED ARTICLES
Saiga Antelope's Saga Attracts New Allies
Project To Reverse Aral Sea Damage Making Progress
Iraqi Marshes Show Signs Of Strong Recovery
Deforestation Rampant In South And Central Asia
Environmentalist Says BTC Pipeline Could Be 'Death Of Caspian'
Scientists Raise Alarm As Man-Made Deserts Spread
Nature Waits For Cross-Border Sanctuaries To Catch On
Central Asian Vllagers Encouraged To Protect Snow Leopards
Environmentalists Raise Concerns About Russian Ecology Policy
ARCHIVE
RFE/RL coverage of environmental issues
.