Russian botanist and geneticist Nikolai Vavilov (1887-1943) noted that the wild relatives of crop plants are concentrated in relatively small, isolated, and frequently mountainous regions that he referred to as their centers of origin or diversity.
A recent report on food stores by the Switzerland-based conservation group WWF, titled "Food Stores: Using Protected Areas To Secure Crop Genetic Diversity," found that many of such centers have almost negligible levels of protection -- frequently around 5 percent protection but in some cases 1 percent or less.
Myriad Threats
Olga Pereladova, who heads the WWF Central Asia program in Moscow, tells RFE/RL that protection is notably low in Central Asia, where land degradation, deforestation, and desertification are major threats.
"In Central Asia, the idea of saving centers of origin of domestic plants was one of the reasons to create a series of strictly protected areas," Pereladova says. "[But] steppes [and] mountain steppes are not very well protected. Crops [lack] proper protection in the meaning of the percentage of territory that is protected."
The WWF report says just 0.6 percent of the Alai-Western Tian Shan steppe in Kazakhstan, Uzbekistan, and Tajikistan -- where onions, wheat, barley, and oats, and other important species can be found in the wild -- is currently protected.
Walnuts, Pears, Almonds...
About 40 percent of the Gissaro-Alai open woodlands of Kyrgyzstan, Tajikistan, and Uzbekistan has been lost. Steppe grasses grow in the eco-region alongside wild fruit and nut forests, including wild stands of walnut (Juglans regia), pears (Pyrus korshinskyi, P. regelii), almonds (Amygdalus communis, A. bucharensis ), prunes (Prunus ferganica, P. sogdiana), and cherries (Cerasus mahaleb).
"We're relying too much on the relatively few cultivated varieties of crops. This puts us at risk from changing environmental conditions."
Several plants that are important in terms of crop genetic diversity are listed in Turkmenistan's Red Data Book of endangered species -- including the walnut (Juglans regia), pomegranate (Punica granatum), pistachio (Pistacia vera), and pear (Pyrus turcomanica, P. boissieriana).
Surin Suksuwan, from the WWF Global Forests Program in Gland, Switzerland, says crop wild relatives must be protected because they are useful sources of material for plant breeding.
"We are relying too much on the relatively few cultivated varieties of crops. This puts us at risk from changing environmental conditions," Suksuwan says. "And also [wild crop relatives] have genetic diversity that can provide us with resistance to pests and diseases. One example [is that] the U.S. Department of Agriculture evaluated that one particular species of wild apple [growing in Central Asia] -- the Siever's apple (Malus sieversii) -- has genes that can provide resistance to apple scab (a disease that affects trees)."
Converging On Central Asia
Research centers from around the world have supported seed-collecting missions across Central Asia in an effort to improve the future robustness of crop.
When creating new varieties, plant breeders can also use seed banks and living collections around the world.
Such collections include Kazakhstan's Talgar Pomological Gardens, the Garrygalla Research Center in Turkmenistan, and the Uzbek Research Institute of Plant Industry. But those Central Asian institutions have faced serious financial constraints in recent years, threatening the continued maintenance of the collections.
Also, the WWF report warns that seed banks are unable to conserve the full range of crop genetic diversity.
Pereladova says governments should be encouraged through financial assistance to expand and strengthen their existing protected areas network.
"These crops are not known and their places of concentration are not known for the outside world," Pereladova says. "Inside the former Soviet Union it is well known. There was a lot of research on that -- published in Russian, mainly. But [Central Asian countries] have no resources. So it would be useful for the outside world to know how important this region is."
The WWF report says a tiny fraction of profits from companies that dominate agribusiness would considerably boost the budgets of many of the world's under-resourced protected areas. That, they say, could help conserve important crop genetic resources.
The Post-Soviet Environment
The Post-Soviet Environment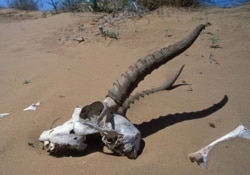 The skull of a male saiga antelope in Kalmykia. Saiga numbers have collapsed disastrously over the last decade. (shpilenok.com)
THE FRAGILE PLANET:
Since the collapse of the Soviet Union, old environmental disasters have come to light and new ones have emerged. War, poverty, and weak central-government control have led to serious environmental problems from Eastern Europe to the Russian Far East. RFE/RL has provided extensive coverage of these important issues and of efforts to cope with them.
RELATED ARTICLES
Saiga Antelope's Saga Attracts New Allies
Project To Reverse Aral Sea Damage Making Progress
Iraqi Marshes Show Signs Of Strong Recovery
Deforestation Rampant In South And Central Asia
Environmentalist Says BTC Pipeline Could Be 'Death Of Caspian'
Scientists Raise Alarm As Man-Made Deserts Spread
Nature Waits For Cross-Border Sanctuaries To Catch On
Central Asian Vllagers Encouraged To Protect Snow Leopards
Environmentalists Raise Concerns About Russian Ecology Policy
ARCHIVE
RFE/RL coverage of environmental issues
.