The Irgiz-Turgay project safeguards habitat for the rare saiga antelope and endangered bird species. But environmentalists say it is part of a much larger initiative to create a system of protected areas of more than 6 million hectares in Kazakhstan's steppes.
The Kazakh government established the Irgiz-Turgay nature reserve earlier this year over more than 760,000 hectares in the steppes of northwestern Kazakhstan.
The Irgiz-Turgay reserve also includes important wetlands for some 100 species of waterbirds.
Most of the area will become protected pastures for the odd-looking saiga antelope.
Embattled Wildlife
The Irgiz-Turgay area, which includes steppe, semidesert, lakes, and wetlands, has long been affected by overgrazing, agriculture, and commercial fishing.
Olga Pereladova, who heads the World Wildlife Fund's (WWF) Central Asia program in Moscow, tells RFE/RL that such activities will be prohibited completely on part of the reserve -- such as the saiga antelope's breeding grounds -- and limited on the remainder.
"Sustainable use of nature resources will be allowed, including grazing," Pereladova says. "But it will be obligatory for the land users and resource users to take into consideration nature conservation goals. Anti-poaching control will be very strict, and the number of livestock will be [restricted] so that they are not competing with saiga."
The nomadic, herding saiga antelope is found primarily in Kazakhstan and Russia's Republic of Kalmykia, but can also be seen in Uzbekistan and Turkmenistan.
Over the last decade, its numbers have declined from more than 1 million to some 30,000 -- mainly due to poaching for meat and horns, combined with habitat destruction.
Bird Sanctuary
The Irgiz-Turgay reserve also includes important wetlands for some 100 species of waterbirds.
National Important Bird Area Coordinator for the Association for the Conservation of Biodiversity in Kazakhstan Sergei Sklyarenko tells RFE/RL that such species include two globally threatened birds -- the Dalmatian pelican (Pelecanus crispus) and the white-headed duck (Oxyura leucocephala).
"Last year, our Association for the Conservation of Biodiversity [in Kazakhstan] organized two special surveys at the lakes [of the lower Irgiz and Turgay river basins] and found more than 300 pairs of Dalmatian pelicans [and] more than 300 [specimens of] white-headed ducks," Sklyarenko says. "And the total number of waterbirds in summer 2006 was about 250,000. In autumn [2005 they were] about 200,000."
The Dalmatian pelican's breeding grounds include Central Asia, South Caucasus, Russia, Ukraine, and Iran. Following massive declines, its population is believed to have stabilized at up to 20,000 individuals.
White-headed ducks breed primarily in Russia and Kazakhstan, but also Central Asia, Iran, Afghanistan, and Armenia. Their numbers are believed to have declined to some 10,000.
Greater Protection
The Irgiz-Turgay reserve is expected to become fully operational this year, when the Kazakh government allocates funds and appoints staff.
It will border the existing Irgiz-Turgay sanctuary, which covers some 300,000 hectares.
Conservationists say the creation of the Irgiz-Turgay reserve is an important step in achieving the goal of creating a system of protected areas of more than 6 million hectares.
The Kazakh government has included the implementation of the Altyn Dala Conservation Initiative to its plan of protected areas development for 2007-09.
The initiative is made up of a coalition of international nongovernmental groups that includes the Frankfurt Zoological Society, Britain's Royal Society for the Protection of Birds, the WWF, and Association for the Conservation of Biodiversity in Kazakhstan. Kazakhstan's Environment Ministry and the Committee for Forestry and Hunting of the Agriculture Ministry cooperated with the project.
Pereladova says the Altyn Dala system of protected areas will take decades for completion. But she says the Kazakh government is committed to create new protected areas and provide funds for their operation.
"Kazakhstan is increasing [its] financial allocations for [a] protected-area system more seriously than any other of the former Soviet Union countries," Pereladova says. "What they're doing now [is] reserving land for future creations of protected areas. That means that nothing can be built or established on these areas and some control in nature conservation is already going on. And, step by step, some nature conservation areas of different status are [being] established."
Pereladova says the effective creation of new protected areas could be accelerated dramatically if international donors provided financing for the initial costs -- including land allocation, infrastructure, and equipment.
Sklyarenko says strong economic growth has allowed Kazakhstan to allocate more money into protected areas development than its Central Asian neighbors.
He says the Committee for Forestry and Hunting is eager to keep important areas for biodiversity far removed from the current process of land privatization.
The Post-Soviet Environment
The Post-Soviet Environment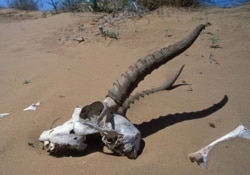 The skull of a male saiga antelope in Kalmykia. Saiga numbers have collapsed disastrously over the last decade. (shpilenok.com)
THE FRAGILE PLANET:
Since the collapse of the Soviet Union, old environmental disasters have come to light and new ones have emerged. War, poverty, and weak central-government control have led to serious environmental problems from Eastern Europe to the Russian Far East. RFE/RL has provided extensive coverage of these important issues and of efforts to cope with them.
RELATED ARTICLES
Saiga Antelope's Saga Attracts New Allies
Project To Reverse Aral Sea Damage Making Progress
Iraqi Marshes Show Signs Of Strong Recovery
Deforestation Rampant In South And Central Asia
Environmentalist Says BTC Pipeline Could Be 'Death Of Caspian'
Scientists Raise Alarm As Man-Made Deserts Spread
Nature Waits For Cross-Border Sanctuaries To Catch On
Central Asian Vllagers Encouraged To Protect Snow Leopards
Environmentalists Raise Concerns About Russian Ecology Policy
ARCHIVE
RFE/RL coverage of environmental issues
.