The expedition was counting members of the species vanellus gregarius, or the sociable lapwing. This migratory bird, which summers in Kazakhstan and Russia, is listed as "critically endangered" on the Red List of the World Conservation Union.
More exciting news came from southern Turkey this month, when Turkish ornithologists counted some 1,000 of the birds in one day near the Syrian border.
Rob Sheldon, from Britain's Royal Society for the Protection of Birds, works on a sociable lapwing research project in Kazakhstan. He told RFE/RL that the bird's population is probably much higher than previously thought.
"These sightings of more than 2,000 birds is one of the largest flocks of sociable lapwings seen in the last 10 years," Sheldon said. "And, very interestingly, none of these birds were color-ringed. We've been putting these small plastic rings on [the birds'] legs in our study area in central Kazakhstan. So the fact that these birds in Syria [and Turkey] don't have any color-rings suggests there are a lot more birds outside our study area in Kazakhstan."
The bird's population has decreased drastically in the past 50 years, but may now be much higher than previously thought.
Previous estimates placed the global population of this species at between 400 and 1,500 birds.
The sociable lapwing is a large, grayish plover, a family of birds that live primarily along beaches and lakeshores and have short, hard bills. Lapwings have black- and brown-colored bellies, white eyebrows, black crowns, and stripes around the eyes.
The bird's breeding population is believed to be concentrated in north-central Kazakhstan, with small populations in south-central Russia. It spends its winters in the Middle East, northeast Africa, and northern India. During its migrations, the species transits though Central Asia, the Caucasus, Afghanistan, and Iran.
Threatened By Development
The coordinator for the implementation of an international action plan for the sociable lapwing in Almaty, Victoria Kovshar, told RFE/RL that the birds' population has decreased drastically in the past 50 years.
"The main reason was that in the 1960s, the Soviet Union tried to develop steppes in northern [and central] Kazakhstan," Kovshar said. "Many nests were destroyed by big herds of cattle, by shepherds' dogs, and other reasons. But now, [most] people have moved from the steppe areas. Now the survival of nests, chicks, and eggs is pretty high. But the total [population] isn't growing. It means that we have some problems in the wintering places or on the migrating routes."
Sheldon agrees, adding that the threats the species is facing are not well understood and could include habitat destruction, hunting, and climate change.
He said scientists will continue fieldwork in Kazakhstan this year to widen their search within the potential species distribution area. Sheldon said more work is also planned to search possible breeding grounds and migration routes in Russia.
Meanwhile, a management plan for the Tengiz-Korgalzhyn lake system in Kazakhstan will continue developing under a seven-year project of the Global Environment Facility and the UN Development Program office in Astana.
The site -- an important habitat for sociable lapwings – straddles the Akmola and Karaganda regions. It comprises a nature reserve and a buffer zone totaling 353,000 hectares.
National project manager Talgat Kerteshev said the management plan will help build an integrated approach to conservation and the sustainable use of biological diversity.
"In the past, the natural reserve was managed without public participation. But now this management plan provides for the participation of local communities in the management of the reserve. The program on human resources management helps develop ecotourism. It tells how people can benefit from the reserve," Kerteshev said.
The project includes two other Kazakh wetlands located at important flyways: the Alakol-Sassykol lake system and the Ural River Delta.
Seeking Government Commitment To Conservation
On a wider scale, a Central Asian Flyway initiative is being developed to help conserve migratory birds by getting commitments from the countries in which they live.
This initiative focuses on international cooperation for the conservation of migratory waterbirds and their habitats in an area from western Siberia to western China, through India to Central Asia and Iran.
Government representatives, scientists, and conservation experts have finalized a Central Asian Flyway action plan, expected to provide the basis for the region's authorities to take individual and coordinated action to conserve waterbirds and their habitats.
Experts are concerned, however, that conservation measures remain a low priority in the many countries in the region that have economies in transition.

The Post-Soviet Environment
The Post-Soviet Environment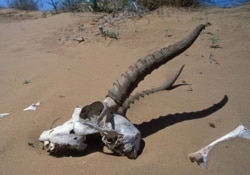 The skull of a male saiga antelope in Kalmykia. Saiga numbers have collapsed disastrously over the last decade. (shpilenok.com)
THE FRAGILE PLANET:
Since the collapse of the Soviet Union, old environmental disasters have come to light and new ones have emerged. War, poverty, and weak central-government control have led to serious environmental problems from Eastern Europe to the Russian Far East. RFE/RL has provided extensive coverage of these important issues and of efforts to cope with them.
RELATED ARTICLES
Saiga Antelope's Saga Attracts New Allies
Project To Reverse Aral Sea Damage Making Progress
Iraqi Marshes Show Signs Of Strong Recovery
Deforestation Rampant In South And Central Asia
Environmentalist Says BTC Pipeline Could Be 'Death Of Caspian'
Scientists Raise Alarm As Man-Made Deserts Spread
Nature Waits For Cross-Border Sanctuaries To Catch On
Central Asian Vllagers Encouraged To Protect Snow Leopards
Environmentalists Raise Concerns About Russian Ecology Policy
ARCHIVE
RFE/RL coverage of environmental issues
.