Russia's Nuclear Ambitions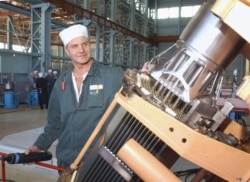 RISING POWER: Many countries are reconsidering nuclear power as a viable alternative to dwindling fossil-fueled energy supplies. Russia -- whose domestic energy shortages are likely to grow amid an increasing, economic-boom demand and a race to fulfill more lucrative contracts abroad -- is no exception.

The Kremlin has endorsed an ambitious, $60-billion plan to build 40 new nuclear reactors in Russia by 2030, a project that aims to up nuclear power's contribution to the electrical grid from 15 to 25 percent.

Its ambitions don't stop there. It is also advertising itself as a top-rung supplier of nuclear technology to clients abroad like Iran, India, Pakistan, and China, and hopes to export 60 plants over the next two decades. Russia says it has also offered some reactors to Persian Gulf states for use in desalination plants.

In the grand-conglomerate style favored by Russia under Vladimir Putin, the state has sought to streamline its nuclear network by ordering dozens of companies to merge into a single state entity, Atomenergoprom, with unchallenged control over every aspect of the industry.
This includes uranium enrichment. Russia's Atomic Energy Agency says the country holds 40 percent of the world's enrichment capacity. With the global demand for nuclear power once again on the rise, uranium looks set to be the 21st-century fossil-fuel alternative that countries will race to corner the market on. By 2015, demand for uranium is estimated to reach 96 million kilos a year.