Russia, under President Vladimir Putin, has launched an ambitious plan to boost nuclear-power-plant construction at home and abroad.
At home, the Kremlin wants to raise the nuclear industry's share of electricity generation from the current 16 percent to 25 percent by 2030. Abroad, Russia aims to win contracts to construct and fuel a quarter of the new nuclear reactors being built around the world.
But there's a problem. Moscow is short of the uranium needed to realize its plans. Australia, by contrast, has 40 percent of the world's known uranium reserves and is one of the world's largest exporters. But until now, it could not sell any of that uranium to Russia.
Russian-Australian Cooperation
That should change after September 7, when Russia and Australia are expected to sign a deal on the civilian use of nuclear energy.
"Any uranium sold from Australia needs to be covered under international IAEA [International Atomic Energy Agency] safeguards and also under bilateral safeguard agreements between Australia and the receiving countries. And those are rather more rigorous and enduring than the international arrangements," explains Ian Hore-Lacy of the Australian Uranium Association. "And this will be a bilateral agreement, with Russia, which will mean that Australia could export uranium to Russia, for Russian use."
Sergei Novikov, a spokesman for the Russian Atomic Energy Agency, told RFE/RL by telephone from Australia that the agreement will facilitate technological and scientific cooperation between the two states.
"It is a political document," he said. "It just opens the possibilities for our companies to buy and to sell products and services, to exchange technologies, to work in the science sphere together. It's a wide menu of cooperation, including experts of uranium from Australia, as Australia is the world leader of uranium resources."
Australia has signed similar safeguard agreements with more than 30 countries, says Hore-Lacy, making Russia a latecomer to this nuclear club.
"This bilateral agreement with Australia is just opening up other options," he says. "It's not committing anybody to buying or selling anything. But it does mean that Russia, along with the other [original] nuclear-weapon states -- France, Britain, the USA, and China -- will all have these bilateral safeguard agreements with Australia, as well as many other countries which are using Australian uranium. Most Australian uranium today goes to the EU, Japan, South Korea, and to the United States."
That might not be the case once the deal between Moscow and Canberra is signed.
Cornering The Market
If recent moves by Russia are any indication, the Kremlin is serious about its seeking to become a major world player in nuclear energy.
Last year, Russia and Kazakhstan -- which has 15 percent of the world's known uranium reserves -- signed a joint venture to enrich uranium and develop a new generation of commercial nuclear reactors for export to third countries.
Earlier this year, the two countries agreed to set up an international uranium-enrichment center in eastern Siberia.
Moscow's expected deal with Canberra could also open the way for Russia to invest directly in the Australian uranium-mining sector, according to Hore-Lacy. "You've already got a number of foreign companies -- Japanese, Chinese, French companies -- with investment in Australian exploration and mining," he notes. "And there would be nothing stopping Russia from investing in Australian mines."

No Resale Or No Deal
Australia maintains it can -- and will -- put the brakes on any new nuclear deal with Russia if it does not receive assurances that any uranium it sells to Moscow will not be resold.
Reuters quoted Australian Prime Minister John Howard as telling a local radio station today that "the condition on our selling uranium is that we obtain the guarantees necessary to satisfy us that it won't go to Iran and Syria."
Howard said that the Australians "will be taking the Russians through the ropes" during negotiations at the APEC summit, and that "we will be wanting to satisfy ourselves completely" that resales to third countries won't occur.
Howard is to meet with Putin on the sidelines of the summit on September 7.
To date, Russia has discussed building nuclear power plants with China and India, as well as Egypt, Morocco, Namibia, and Vietnam.
Moscow has agreements to supply nuclear fuel to 13 different countries and currently furnishes half of the uranium used in U.S. nuclear power plants, through an agreement with Washington that uses fuel from dismantled Russian nuclear weapons.
Russia's Nuclear Ambitions
Russia's Nuclear Ambitions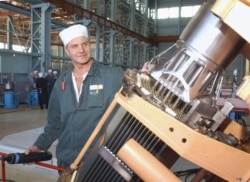 RISING POWER: Many countries are reconsidering nuclear power as a viable alternative to dwindling fossil-fueled energy supplies. Russia -- whose domestic energy shortages are likely to grow amid an increasing, economic-boom demand and a race to fulfill more lucrative contracts abroad -- is no exception.

The Kremlin has endorsed an ambitious, $60-billion plan to build 40 new nuclear reactors in Russia by 2030, a project that aims to up nuclear power's contribution to the electrical grid from 15 to 25 percent.

Its ambitions don't stop there. It is also advertising itself as a top-rung supplier of nuclear technology to clients abroad like Iran, India, Pakistan, and China, and hopes to export 60 plants over the next two decades. Russia says it has also offered some reactors to Persian Gulf states for use in desalination plants.

In the grand-conglomerate style favored by Russia under Vladimir Putin, the state has sought to streamline its nuclear network by ordering dozens of companies to merge into a single state entity, Atomenergoprom, with unchallenged control over every aspect of the industry.
This includes uranium enrichment. Russia's Atomic Energy Agency says the country holds 40 percent of the world's enrichment capacity. With the global demand for nuclear power once again on the rise, uranium looks set to be the 21st-century fossil-fuel alternative that countries will race to corner the market on. By 2015, demand for uranium is estimated to reach 96 million kilos a year.