Since Tbilisi boosted its troop numbers two months ago, Georgia now has 2,000 troops in Iraq -- the third-largest presence in the coalition, after the United States and Britain.
But in spite of the conflicted public opinion, for the Georgian military the Iraq operations are an opportunity to gain on-the-ground experience -- and bolster Tbilisi's case for entering NATO.
One Georgian commander, Major Zaza Kvaraia, arrived in late July in the eastern Iraqi town of Al-Kut to prepare accommodations for the 2,000 Georgian peacekeepers deployed to combat illegal weapons smuggling.
It's a sensitive operation that involves working alongside Iraqi troops in Wasit Governorate, close to the Iran-Iraq border.
"If we seriously want to become members of the alliance, naturally we have to assume partial responsibility and operate like the alliance members do." -- Defense Minister David Kezerashvili
But Kvaraia, who has previous experience as a part of a peacekeeping contingent in Kosovo, says the situation remains quiet as the troops wait for direct operations to begin.
"I can't say we've been playing football -- that hasn't happened yet," Kvaraia said. As for the province where we've been deployed, the situation's really calm, and it's been peaceful all this time. There were some incidents, perhaps, but nothing on a large scale. We interact with people who perceive our presence here as aimed at keeping peace."
Georgian soldiers have been serving in Iraq since August 2003, mainly in noncombat roles like checkpoint control in Ba'qubah and the Green Zone in Baghdad.
But the Al-Kut deployment marks a departure from support roles. It also marks a sharp contrast from the early months of Georgian engagement, when just 79 troops were based in Iraq.
'Georgians Never Run'
The Georgian parliament's Defense and Security Committee in June unanimously approved a proposal to more than double the country's troop contributions to Iraq from 850 to 2,000.
This followed the lead set by the country's pro-Western president, Mikheil Saakashvili, who in early 2007 pledged to boost Georgia's support to the U.S.-led forces in Iraq.
"Georgians never run away from anything," Saakashvili said. "Even in the most difficult circumstances, we will not only maintain our presence, but also, within the next year -- which is a decisive period for this military operation -- we will increase our military presence in Iraq."
The gesture was widely seen as a bid to improve Georgia's standing with the United States and NATO. Tbilisi has long sought membership in the alliance, and has taken steps to improve its military capability and integration with the West.
Defense Minister David Kezerashvili defended the increased troop deployment as a valuable step toward securing NATO membership. "If we seriously want to become members of the alliance, naturally we have to assume partial responsibility and operate like the alliance members do," he said.
Mixed Reactions
Still, Saakashvili's decision sparked criticism in Georgia, even among those who favor his pro-Western course. Mamuka Katsitadze, a member of Georgia's New Conservatives parliamentary opposition group, says it's unwise to double troops in Iraq at a time when other countries -- like Ukraine, which also seeks to join NATO -- are partially or fully withdrawing.
Saakashvili "wants to prove something to someone -- something like 'look how great we are,'" Katsitadze said. "Ukraine, for example, is not lagging behind us in any way" in terms of Western integration, he added, "and still it took a concrete decision to move its contingent away from this zone, having suffered significant losses."
On the streets of Tbilisi, people have mixed feelings about seeing Georgian soldiers deployed in Iraq.
"It's dangerous, I'm very scared. My friend is in Iraq, and I am very afraid," one girl told RFE/RL's Georgian Service. "It's a big risk," added one woman. "If something happens, there's little chance of coming back."
But one man in Tbilisi told RFE/RL that soldiers "go there willingly. A person knows where he's going, right? And probably this is good for the country."
Georgia has not lost a single soldier during its entire engagement in Iraq. Still, Georgian officials concede their soldiers are at risk as long as they remain in Iraq.
Promoting Understanding
Members of the Georgian contingent in Wasit Governorate say the tour of duty is not just an opportunity to boost Georgia's standing with NATO. Father Gabriel, a Georgian Orthodox priest based in Al-Kut, says the new operation is a chance for his countrymen to promote interfaith understanding and tolerance.
"There are Arabs at the base too, and we have warm relations with them. But we also plan to meet with local sheikhs and spiritual leaders, in order to let them know why we're here, that we're not occupiers and that we're here to conduct a peaceful mission. That way, they won't think badly of us, and won't express their anger," he said.
With hostilities simmering between Tbilisi and the breakaway regions of South Ossetia and Abkhazia, some in Georgia may be more concerned with security issues that are closer to home than Iraq. But Major Kvaraia, for one, sees his tour of duty somewhat differently.
"Of course, this is to Georgia's benefit. Achieving peace in this region would be very important not only for Georgia, but for all of the nations in the coalition," he said. It's important, he continued, "that the Iraqi people succeed in normalizing and continuing life. This affects us directly. This task is connected to our own well-being back in Georgia."

Troops In Iraq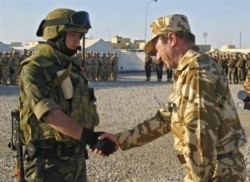 Armenia: Around 50 troops, comprising transportation, engineering, and medical units.

Azerbaijan: 88 troops, mostly infantry soldiers guarding the Hadithah dam.

Bosnia-Herzegovina: 37 troops, comprising munitions and demining units.
Georgia: Around 2,000 troops, mostly involved in combatting weapons smuggling.

Kazakhstan: 29 troops, mostly ordnance-disposal engineers.

Macedonia: 33 troops, mostly special forces.

Moldova: 11 troops, comprising demining and ordnance-disposal specialists.

Romania: Around 600 troops, comprising intelligence, security, and training units.

(Note: Only those countries from RFE/RL's broadcast region are listed.)
(Sources: RFE/RL, Reuters, GlobalSecurity.org)