The new policy prohibits Iraqi passport holders, except for some business people and academics, from entering the country without a prior visa. Iraqis were previously automatically granted a six-month entry permit at the border.
Damascus brought in the restrictions on September 10, saying the country was at breaking point as a result of the refugee influx. Syria has taken in around 1.5 million Iraqis, the bulk of the more than 2.2 million said to have fled the country since Saddam Hussein's regime was brought down in 2003.
Blow To Iraqis
A spokeswoman for the United Nations High Commissioner For Refugees, Astrid van Genderen Stort, told RFE/RL the Syrian move is a strong blow for Iraqis trying to escape violence and sectarianism in their home country.
"It will be much more difficult if not impossible for many Iraqis to flee the country," van Genderen Stort says. "First of all, Iraqis trying to get to Syria will need to get a visa beforehand in Baghdad. This will be at the Syrian Embassy, which is in a district in Baghdad which is quite dangerous at the moment. There have been attacks and security incidents there."
She says many Iraqis are afraid to go to this district, where some other foreign embassies are also based. Now, long queues will likely appear, making them a potential target for terrorists.
Van Genderen Stort says that from now on, according to the new rules, only businesspeople, truck drivers, and academics from Iraq will be allowed to enter Syria without a visa. And it appears the regulations have entered into force.
"All we know is that the border [on September 11] [was empty], that no Iraqis passed through," she says. "So it means that [things are proceeding as the Syrian authorities announced, that] on September 10 [the new regulations would be implemented] and from September 10 we didn't see any Iraqis getting through."

Nowhere Else To Go
Syria says it is struggling to accommodate an estimated 1.5 million Iraqi refugees, who are costing Damascus around $1 billion a year. Van Genderen Stort acknowledges that Syria is in a difficult position.
But the latest Syrian restrictions leave Iraqis deprived of another foreign safe haven. Six months ago, Jordan tightened its own regulations after letting in 750,000 refugees from Iraq.
Van Genderen Stort says other neighboring countries are also getting tough, but up to now Iraq's borders have remained somewhat porous. People find their own ways to leave.
"There are still people leaving. You know, people find all kinds of ways to leave," she says. "It was the easiest to go to Syria. Jordan was more difficult. Turkey is difficult. People have gone into Iran, but much fewer. And there are people who still find ways of getting a visa and flying out of the country but it is getting more and more difficult."
Van Genderen Stort says that the West should be more involved in helping to solve the crisis and the EU countries should accept more Iraqis than they are doing now.
There is another problem too. Last week, the International Organization for Migration said it was concerned over the estimated 2.2 million internally displaced Iraqis, who have left their homes because of sectarian or ethnic violence.
Iraq's Refugee Crisis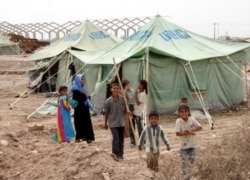 Children at an Iraqi camp for displaced people outside Al-Nasiriyah in May 2006
REFUGEES FLEE SECTARIAN VIOLENCE The UN High Commissioner for Refugees has estimated that over 2 million Iraqis have fled sectarian violence for Jordan, Syria and other neighboring states, while an equal number may be internally displaced within Iraq..... (more)
RELATED ARTICLES
Neighboring States Call For Help With Refugees
Refugees Under Pressure in Syria, Jordan, Lebanon
Displacements Upset Religious, Ethnic Communities
Official Says Refugees To Get New Passports Soon