Juraev was released from a Moscow detention center for foreigners shortly after the court considered his appeal on the afternoon of September 11.
The city court overturned an August 30 verdict of the Meshchansky Raion Court that Juraev be deported to Uzbekistan.
The 41-year-old Juraev is wanted by authorities in his native Tashkent for membership in the unregistered Islamic group Tabligi Jamoat. He was detained in Moscow in January.
The expulsion order by the district court came on August 30, just hours after Russian prosecutors rejected Uzbekistan's extradition request.
Yelena Ryabinina, the Central Asia political-refugee program director for the Moscow-based Civic Assistance Committee, told RFE/RL today that Juraev's case was closed by the court because "of the absence of any violation of the law" on Juraev's part.
Ryabinina said the positive outcome was mostly due to "the European Court's involvement in the case." She told RFE/RL last week that the European Court of Human Rights in Strasbourg sent a notice on September 4 to Juraev's lawyer, Marina Morozova, as well as Russian authorities to suspend a decision to deport him.
Ryabinina said Juraev's release is "the first case of the sort" and becomes a precedent for similar cases in the future.
Another Uzbek citizen, Rustam Muminov, was forcefully returned to Uzbekistan in October despite a similar European Court ruling against the Russian decision to extradite him.
Juraev Still In Danger
A native of Tashkent, Juraev was arrested in Uzbekistan in October 2004 on charges of membership in a banned religious organization. He was fined and released, but fled to Russia in early 2006 fearing a second arrest.
Juraev filed applications to gain refugee status with Russian authorities as well as with the UN High Commissioner for Refugees (UNHCR).
Russian migration authorities denied him refugee status in March. The UNHCR is still considering his case. UNHCR officials were only granted access and allowed to interview Juraev on September 4 about his application filed in February.
Ryabinina said Juraev, although freed, still remains vulnerable. "In the current situation, the issue of his safety remains open, because anything could unexpectedly happen [to him] at any moment," she said.
Ryabinina referred to several cases in the past when Uzbek and Tajik citizens wanted in their countries were secretly detained in Russia and handed over to respective security services officers and taken back to their countries.
Tabligi Jamoat, the unregistered group that Juraev is accused of belonging to, began in New Delhi in the 1920s. It was founded on the initiative of Maulana Mohammad Ilyas, who is considered one of the most influential figures of 20th-century Islam.
It is now an international organization with centers in New Delhi and Dhaka, Bangladesh, and has been active in other countries, including those in Central Asia.
The Arabic word "tabligh" means "convey" or "reach out." Islamic scholars refer to the Hadith by Imam al-Bukhari, which says that the Prophet Muhammad commands all Muslims to convey the message of Allah.
Islam And Politics In Central Asia
Islam And Politics In Central Asia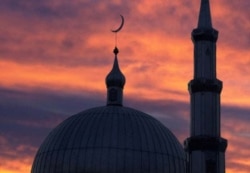 The Khodji Mashrab Mosque in Dushanbe (TASS file photo)
ACTIVISTS AND AUTOCRATS: Eric McGlinchey, assistant professor of government and politics at George Mason University, told an RFE/RL briefing that Islam-centered political movements present the most coherent challenge to autocratic governments in Central Asia.
LISTEN
Listen to the entire briefing (about 60 minutes):

Real Audio
Windows Media
RELATED ARTICLES
Central Asian Security Services Take On Religious Dissent
Family, Followers Reject 'Terrorist' Claims Against Slain Cleric
Hizb Ut-Tahrir's Calls For Islamic State Find Support
Imam Extends Welcome To Hizb Ut-Tahrir

A thematic webpage devoted to issues of religious tolerance in RFE/RL's broadcast region and around the globe.