These were the words that Andrei Sychyov wrote on his blog on September 13.
Sychyov was a 19-year-old conscript in the Russian Army when he was beaten as part of a hazing ritual on New Year's Eve in 2005. Based at a tank academy in Chelyabinsk, he was reportedly forced to squat for hours while being beaten.
Sychyov did not receive medical attention for three days, during which gangrene set into his lower limbs. Sychyov's genitals and both legs had to be amputated. His case became emblematic of hazing in the Russian armed forces.
Holding To Account
Now, Sychyov says, he wants to go into politics to protect other soldiers, and hold what he calls the corrupt system to account.
Sychyov criticized First Deputy Prime Minister Sergei Ivanov, who was the country's defense minister when he was assaulted.
"I have my own unfinished business with this man. I won't take revenge -- I just want to punish him and protect others. I want to look him in the eye. I want the whole country to see our conversation and understand what kind of person he is," Sychyov wrote on his blog.
Sychyov has asked Russia's Union of Rightist Forces (SPS) to include him in their electoral party lists.
A co-founder of the party, Boris Nemtsov, told RFE/RL's Russian Service that Sychyov's decision to run was a right one, and that the party is considering his request.
Health Concerns
Nemtsov also said that the SPS is considering how running as a candidate could affect Sychyov's health.
"There are people who agree with this idea, and there are also those who disagree," Nemtsov says. "The latter group is motivated with humanist sentiments, being concerned how the unquestionably stressful nature [of politics] will be reflected on his health condition. I understand their position, and this is why the discussion still continues."
According to Nemtsov, Sychyov should take part in local elections, as he said it might affect his health less.
A final decision about Sychyov's participation in elections is expected on September 21 at an SPS gathering.
Boris Nemtsov At RFE/RL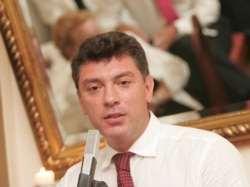 Boris Nemtsov speaking to an RFE/RL event in Prague on June 11 (RFE/RL)

'SOFT DICTATORSHIP.' Former Russian First Deputy Prime Minister Boris Nemtsov, a member of the Political Council of the Union of Rightist Forces party, told an RFE/RL gathering that Russia is facing a watershed moment with its 2008 presidential election.
LISTEN
Listen to the entire briefing (about 35 minutes):

Real Audio
Windows Media
ARCHIVE
RFE/RL's complete coverage of
Russia
. The website of
RFE/RL's Russian Service
.
SUBSCRIBE
For news and analysis on Russia by e-mail,
subscribe to "RFE/RL Russia Report."