With its vast hydrocarbon resources, Kazakhstan has achieved nearly 10 percent annual economic growth in recent years, mostly due to its oil industry. Rising oil revenues have also allowed Kazakh companies to invest in neighboring countries.
Kazakh President Nursultan Nazarbaev visited both Turkmenistan and Tajikistan this week, holding talks focused mostly on economic issues. The visits are seen as the latest moves in Kazakhstan's increasing economic expansion in the region.
Reaching Out To The Region
In Dushanbe, Nazarbaev promised on September 13 to provide Tajikistan with grain -- a timely offer for a country where prices for bread and flour have risen sharply in recent weeks.
Nazarbaev and his Tajik counterpart, Emomali Rahmon, agreed to set up a joint investment fund, with Kazakhstan providing 80 percent of the money. "We agreed to establish a special investment fund of $100 million," Nazarbaev said. "The Kazakh side will contribute its significant part. The fund will work for the benefit of the Tajik economy. I believe it will be a good support."
Nazarbaev also said that Kazakhstan is ready to finance the construction of the Nurobod hydroelectric power plant in northern Tajikistan.
Rahmon said Kazakh-Tajik trade has increased 57 percent in January-July 2007 compared to the same period last year.
Economic issues were also at the center of Kazakh-Turkmen talks in Ashgabat on September 12. Turkmen President Gurbanguly Berdymukhammedov said economic cooperation with Kazakhstan is a "priority aspect."
Nazarbaev and Berdymukhammedov also discussed the construction of a gas pipeline that would deliver Turkmen gas to Russia via Kazakh territory. Kazakh energy companies have expressed interest in investing in the development of Turkmenistan's oil fields, too.
The two sides also discussed the railroad project going through Uzen-Gyzylgaya-Bereket-Etrek-Gorgan -- stretching from Kazakhstan to Iran via Turkmen territory.
But Kazakhstan's regional economic aspirations are not only limited to Tajikistan and Turkmenistan. In recent years, Kazakh companies have made significant investments in Kyrgyzstan's economy, with the banking sector leading the trend.
Leaving Traditional Rival
Behind
Sergei Luzynanin, a professor at the Moscow Institute for International Relations (MGIMO), tells RFE/RL that Nazarbaev's recent trips to neighboring countries are part of Astana's policy to establish itself as a regional leader.
"All this proves that Astana wants to be a center of influence -- actually it has already become one. Kyrgyzstan and Tajikistan are willing to cooperate [with Kazakhstan]. They have received Kazakh loans and investments. They have gained some advantage" from the cooperation, Luzynanin says.
"But others, like Uzbekistan, are cautious about Astana's initiatives. There's been some rivalry and jealousy [between Kazakhstan and Uzbekistan]," he adds. "Tashkent has often criticized Astana's actions. It demonstrates an old, traditional antagonism."
Uzbekistan is Kazakhstan's rival for regional leadership, but it lags behind Kazakhstan in economic development. Astana introduced free-market economic reforms shortly after gaining independence in 1991, whereas the Uzbek economy remains state-controlled and still bears resemblance to the Soviet command-administrative economic system.
Luzyanin says Uzbekistan could strengthen its position in the region in a decade or more. "But Kazakhstan undoubtedly has taken a leading position in Central Asia for the time being," he says.
Russia, China Also Look To Move In
But it is not only officials in Astana who aim to develop economic ties with its neighbors. Kazakh companies -- state-owned as well as private ones -- have shown the interest and financial capacity to invest in neighboring countries' energy sectors, construction businesses, and general services. Luzynanin says the political will of the authorities has coincided with the companies' pragmatic interests at present.
Kazakhstan is not the only country expanding its economic presence in Central Asia. Russia has had a strong economic position in its former "soft underbelly." The Russian state gas monopoly Gazprom has been the major foreign partner of Turkmenistan and Uzbekistan. Russia is also Tajikistan's biggest trade partner.
In recent years, China has also greatly strengthened its economic position in the region. Many Central Asians have even expressed fears of China's "creeping expansion."
Turkmenistan has reached an agreement with Beijing on the construction of a gas pipeline that is expected to start transporting Turkmen gas to China by 2009, while Russia's Gazprom also has an agreement to export Turkmen gas.
Will these developments produce a clash between the economic interests of Astana and those of Moscow and Beijing in Central Asia? Luzyanin is optimistic that they will not.
"Undoubtedly, there are contradicting [interests]. But Astana, Moscow, and Beijing are bound by dozens and even hundreds of bilateral contracts, agreements, and treaties as well as big institutional projects, like the Shanghai Cooperation Organization [SCO]," he says. "The SCO summit in Bishkek [in August] proved that -- at least in the energy sector -- China, Russia, and Kazakhstan are interested in settling those contradictions on Turkmen gas."
As the gap deepens between the rich and poor in all Central Asian countries, there are also growing discrepancies between Kazakhstan, on the one hand, and poor countries like Kyrgyzstan, Tajikistan, and Turkmenistan on the other. Luzyanin says that this makes regional stability more vulnerable.
He adds that Kazakhstan "should help its neighbors by investing not only in, let's say, the gas sector, but also build hospitals, schools, and roads."
Exporting Kazakhstan's Energy
Exporting Kazakhstan's Energy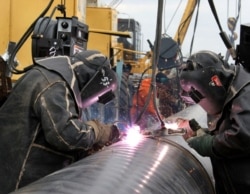 Work on a Kazakh pipeline (TASS file photo)


PRESSURE FROM THE KREMLIN? Columbia University political science professor Kimberly Marten told an RFE/RL briefing that Russia seems to be using its control of gas pipelines in the former Soviet Union to pursue its goals in Kazakhstan.
LISTEN
Listen to the entire briefing (about 60 minutes):

Real Audio
Windows Media
RELATED ARTICLES
The Emerging Post-Soviet Petrostates
Nazarbaev, Merkel Discuss Energy, Bilateral Ties
Nazarbaev Talking Energy, Economic Cooperation On China Visit
ARCHIVE
RFE/RL's coverage of
Kazakhstan
.