However, analysts say the EU needs to act fast if it wants to secure direct access to Central Asian oil and gas -- and warn that Russia is purposely attempting to undermine some of the EU's key initiatives.
The past several weeks have seen Moscow finalize bilateral energy deals with European Union members Hungary, Greece, and Italy -- among others.
And every new deal casts greater doubt on the viability of the EU's planned Nabucco pipeline from Turkey to Austria.
Without Nabucco, the EU will have no independent access to gas from the Caspian Sea basin transited to Turkey. Instead, its dependence on Russia -- which already supplies 25 percent of its natural gas -- will grow.
Keith Smith, a former U.S. ambassador to Lithuania and currently a senior associate with the Europe Program at the Center for Strategic and International Studies in Washington, D.C., warns that the EU's collective failure to penalize states, like Hungary, that have signed deals with Russia, could undo the bloc's ambition to relieve its dependence on Russia.
Russia's Strategy
Smith says there is a sharp contrast between the EU's disorganized approach to energy matters and what he says is the Kremlin's brisk and purposeful oil and gas policy, conducted at the very highest levels of government.
"Who negotiates for Russia when it comes to energy? The Hungarian prime minister, [Ferenc Gyurcsany], was there [in Moscow] a couple of days ago. Who is he negotiating with? [There's] only one person who negotiates on energy -- Mr. [Vladimir] Putin. Why is the president of Russia negotiating on energy if it's not part of the political policies of the Russian government?" Smith says.
Another analyst, Svante Cornell of Johns Hopkins University in the United States, described some of the key elements in the Russian strategy.
Russia, he says, is poised to "steal" the idea behind Nabucco, by building its own pipeline from Turkey to Hungary -- something that would give Moscow effective control over gas transited to Europe from Turkey.
Meanwhile, the EU is dragging its feet over Nabucco and has yet to decide whether to go ahead with the project.
Cornell notes Russian officials are trying to secure the cooperation of key countries by spreading what could be considered misleading information -- that Greece's hopes of transiting Central Asian gas will not materialize, that Azerbaijan will have no buyers for its gas but Russia when the massive Shah Denis field will come fully online in 2012.
U.S. Counter-Policy
Smith says that Europe's increasing dependence on Russia is worrying the United States -- which is promoting its own counter-policy.
"You do have a [U.S.] policy. [Matthew] Bryza, [deputy assistant secretary of state for European and Eurasian affairs] from the [U.S] State Department travels out there a lot and has been promoting the idea of alternative pipelines from Central Asia into Europe," Smith says.
Both analysts trace the EU's inability to formulate its own coherent energy policy to differences among member states -- Germany, France, Italy, and a few others see in Russia an important global partner they do not want to alienate, while most Eastern member states and Britain remain wary of Russia's intentions. The EU's executive arm, the European Commission, appears to agree with the former.
Cornell says the EU must act fast if it really wants to secure independent access to Azerbaijani and Central Asian gas. Apart from Russian moves to render Nabucco obsolete, the prospective alternative suppliers themselves must soon choose between Russia and Europe.
Cornell says the Central Asian countries are watching Russia cautiously while awaiting an EU decision.
"These countries will be very careful not to excessively alienate the Russians [since] they are not sure that the Europeans have either the interest or the political stamina to actually be involved in these projects [to bypass Russia] significantly -- to commit to these projects. Europe is seen to have a commitment problem," Cornell says.
Europe's Dilemma
Cornell notes that Europe's inaction is difficult to understand, given that the Caspian region's combined export capacity -- more than 200 billion cubic meters (BCM) a year -- considerably exceeds that of Russia, which currently exports an annual 140 BCM to the EU.
He says Turkmenistan could boost Central Asian export capacity even further if reports of a new gigantic gas field in the southeast of the country, Yolotan, turn out to be true -- and if the country opens up to Western investors.
Cornell says Russia's determination to prevent Europe's direct access to gas reserves in the Caspian basin is partly motivated by its own need for the reserves, in order to meet its obligations to Europe.
"Russia is not investing, as we know, in its own gas fields, and already by 2010 they may have difficulties fulfilling their supply requirements, or commitments, to Europe," Cornell says.
In Cornell's words, Europe's dilemma boils down to this: one way or another, it will be getting increasing volumes of gas from Central Asia and Azerbaijan. The question is, with whom will it be negotiating the price -- the supplier and transit countries, or a monopolist Russia?
Central Asia Gas Pipelines
Central Asia Gas Pipelines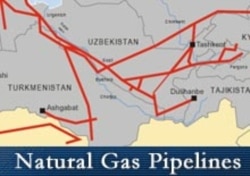 Click on the map for an enlarged image.

Russia's rising appetite for Central Asian gas is a direct result of the shifting fortunes of Gazprom, the state-run Russian company that controls lucrative exports. The company's total gas production has flatlined at around 550 billion cubic meters (bcm) a year. With major fields yielding less as they age, Gazprom has chosen to maintain its all-important gas balance by purchasing gas on the side -- from independent producers in Russia and from Russia's Central Asian neighbors -- instead of investing in the lengthy and costly development of untapped Arctic fields...(more)
See also: