German Foreign Ministry spokesperson Martin Jaeger, whose country currently holds the EU Presidency, said the delegation will raise the issue of human rights during the talks in Astana.
The foreign ministers of the five Central Asian states are due to participate in the talks with German Foreign Minister Frank-Walter Steinmeier; EU External Relations Commissioner Benita Ferrero-Waldner; and the EU special representative for Central Asia, Pierre Morel.
The delegation is also scheduled to meet with Kazakh President Nursultan Nazarbaev on March 28.
At their summit in Brussels earlier this month, EU leaders vowed to push for stronger links with Central Asia.
(dpa)
Kazakhstan And The OSCE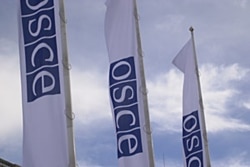 READY TO LEAD THE OSCE? Kazakhstan has been lobbying to be granted the rotating chair of the Organization for Security and Cooperation in Europe (OSCE) in 2009. In March, current OSCE head Karel De Gucht visited the country and said Kazakhstan is better prepared to head the OSCE than any other Central Asian country. But concerns about the state of democracy, the media, and ethnic relations make Kazakhstan's bid extremely controversial....(more)
RELATED ARTICLES
OSCE Says Kazakh Presidential Vote Flawed
OSCE Says Kazakh Obligations Not Met Ahead Of Vote
OSCE Offers Amendments To Kazakhstan's Draft Media Law
ARCHIVE
RFE/RL's
coverage of Kazakhstan
. The website of
RFE/RL's Kazakh Service
.