The summit will look at reforms aimed, on the one hand, at enhancing the EU's self-sufficiency by better coordinating external action and diversifying sources and transit routes. On the other hand, the EU is keen to reduce greenhouse-gas emissions, which are considered harmful to the environment and responsible for global warming.
Speaking in Brussels on March 6, European Commission President Jose Manuel Barroso said he will present the 27 EU prime ministers and presidents at the summit with a "coherent strategy" for an external energy policy.
The key element in any such strategy, Barroso said, must be EU unity.
Divisions Over Russia
"If we are to have credibility with third countries, we need to have solidarity between our member states," Barroso said. "We have to have a single voice when we talk with our international partners. We must not let [the] energy of [the] outside world pull us apart. What we need is a global Europe, not a divided Europe."
There are considerable differences among EU member states on this issue, largely mirroring their pre-existing divisions over policy toward Russia.
A draft summit declaration, obtained by RFE/RL, says the EU needs to develop a "single voice" in its attempts to negotiate a new energy partnership with Russia as part of a planned larger overhaul of bilateral relations.
Poland has assumed the lead among those EU countries preferring a more critical stance vis-a-vis Russia.
The EU's current German presidency is trying to fend off Warsaw's attempts to include in the declaration language reflecting concerns over Russia's reliability as an energy partner. Germany, together with France, is keen to minimize the chances of confrontation with Moscow.
The draft summit conclusions also say the EU must intensify its relationship with Central Asia, the Caspian, and the Black Sea regions "with a view to further diversifying sources and routes."
Looking At Central Asia
Current EU chair Germany will meet the foreign ministers of the five Central Asian countries in the Kazakh capital, Astana, on March 28 to discuss its work on the EU's first-ever strategy for the region. The plans will be formally unveiled at the EU's next summit in June.
Another plank in the plans of the EU's executive European Commission to enhance the bloc's energy security is attempts to break up Europe's energy giants by splitting energy providers from suppliers. Barroso on March 6 argued that this is necessary to develop a pan-European energy market, as dropping national barriers will encourage cross-border competition:
"It is with integration, through integration, not isolation, that we achieve energy security," Barroso said. "This is very important to understand. Because, I believe, in some sectors of Europe people still think that the best way to achieve security is to have a completely controlled [national] market. This is a mistake."
The commission move is unpopular among some of the larger member states, among them Germany and France.
It has also come in for heavy criticism from the Russian gas monopoly, Gazprom. Gazprom is intent to acquire a stake in the EU's gas-supply networks and feels the plans are geared toward keeping it out. Last month, Gazprom deputy CEO Aleksandr Medvedev also attacked the economic rationale of the European Commission proposals, calling them the most "absurd" idea in the whole of economic history.
To enhance their self-sufficiency in the field of energy, EU leaders will be looking to agree on benchmarks for energy savings and the increased use of renewable energy sources, which would reduce the EU's dependence on imports. However, not all member states appear willing to make those benchmarks binding.
Reflecting their growing concerns over global warming, the EU plans to commit itself to reducing carbon dioxide emissions -- thought to be the driving factor behind climate change -- by 20 percent of 1991 levels by the year 2020. The EU will also call for a global undertaking by all major industrialized nations to jointly cut their emissions by 30 percent inside the same timeframe.
Russia And Global Energy Security
Russia And Global Energy Security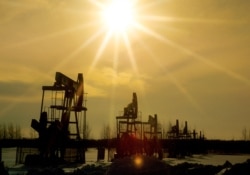 An oil field in Russia's Republic of Bashkortostan (TASS file photo)


ENERGY SECURITY is increasingly moving to the top of the EU's agenda in its dealings the outside world. A recent report identifies the European Union's main energy objectives as not just securing gas and oil deliveries from Russia, but also ensuring that it has reliable alternative sources, including in Central Asia. Nonetheless, EU officials say relations with Russia take center-stage in their thinking....(more)
RELATED ARTICLES
EU Maintains Codependent Energy Relationship With Russia
Turkmenistan: The Achilles' Heel Of European Energy Security
U.S. Official Urges Reforms In Energy-Producing Countries
ARCHIVE
A
complete archive
of RFE/RL's coverage of energy issues in the Caspian Sea region and Russia.