Merkel, whose country currently holds the rotating EU presidency, meets her Russian counterpart on January 21 at the Black Sea resort of Sochi.
Merkel's meeting with Putin is part of a long-planned working visit. No major breakthrough is expected from the talks, although the leaders are likely to touch on several hot-button issues.
Merkel is expected to press Putin for guarantees on Russian energy deliveries to the European Union following a bitter energy pricing dispute between Russia and Belarus.
The row briefly disrupted oil deliveries to several European countries, including Germany, and caused jitters over the reliability of Russian supplies.
EU Wants Energy Assurances
Fyodor Lukyanov, the editor in chief of the journal "Russia in Global Affairs," says Putin will try hard to improve its reputation as a key energy supplier.
"I think that this will be actively discussed since the European Union is deeply worried and Russia is visibly upset by the impression it has produced," Lukyanov says. "Putin will probably try to appease Merkel and convince her that this [dispute] was a practical difficulty that has been overcome."
Merkel has been particularly vocal in criticizing Moscow for failing to consult Europe before cutting off oil shipments in its dispute with Minsk.
She said the surprise shutoff was "unacceptable" and "hurt trust" in Russia.
EU Agreement
Much of the talks will focus on efforts to sign a new EU Partnership and Cooperation Agreement with Moscow covering energy, trade, and human rights.
The current agreement will reach the end of its initial 10-year period in November.
Last year, Poland vetoed the start of talks on the pact over Russia's refusal to lift a year-old ban on Polish meat.
While Moscow cites animal health concerns, Poland claims the meat embargo is retribution for what Moscow perceived as Warsaw's anti-Russian policies.
The upcoming Merkel-Putin meeting is unlikely to yield a breakthrough on this issue.
But as analyst Lukyanov points out, the leaders are likely to announce recent progress on breaking the deadlock.
"The upcoming meeting cannot bring any breakthrough aside from a declaration that the problem that disrupted the start of the talks on the agreement -- the Polish veto on the European Commission's mandate to launch these negotiations -- will be resolved," Lukyanov says. "The interested parties have been holding intensive consultations over the past few days to settle this conflict."
EU, Polish, and Russian officials have been holding consultations in Berlin this week on ways of lifting the ban, which the EU has branded "disproportionate."
Critical Of Kremlin
Although Merkel is known for her criticism of Moscow's policies, Lukyanov does not expect any harsh words at the meeting.
Observers say Merkel, due to her East German background, is more distrustful of Russia -- and less shy of condemning the Kremlin than many of her Western European peers.
Alexander Rahr, an expert at Germany's Korber Center for Russia and the CIS, says former German Chancellors Helmut Kohl and Gerhard Schroeder regarded postcommunist Russia as a new partner with whom it was possible to form an alliance.
"Mrs. Merkel wants to keep Russia at somewhat of a distance and, to a large extent, I think she still perceives the old communist ideas in Russia. She won't move towards Russia," Rahr says.
"On the other hand, she is perfectly aware that she must support Germany's economic interests and therefore will continue to promote a strategic partnership with Russia. But relations won't be so cordial."
Russia And Global Energy Security
Russia And Global Energy Security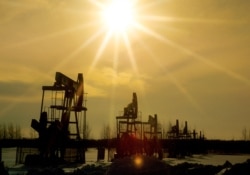 An oil field in Russia's Republic of Bashkortostan (TASS file photo)


ENERGY SECURITY is increasingly moving to the top of the EU's agenda in its dealings the outside world. A recent report identifies the European Union's main energy objectives as not just securing gas and oil deliveries from Russia, but also ensuring that it has reliable alternative sources, including in Central Asia. Nonetheless, EU officials say relations with Russia take center-stage in their thinking....(more)
RELATED ARTICLES
EU Maintains Codependent Energy Relationship With Russia
Turkmenistan: The Achilles' Heel Of European Energy Security
U.S. Official Urges Reforms In Energy-Producing Countries
ARCHIVE
A
complete archive
of RFE/RL's coverage of energy issues in the Caspian Sea region and Russia.