Putin hailed an agreement signed last week ending an energy dispute with Minsk that led to the interruption of Russian oil deliveries to Europe via Belarus.
"I would like to point out that the main result of these negotiations is the transition to market relations with our Belarusian partners, first of all, in the energy sector," Putin said.
Putin's comments followed remarks by Belarusian President Alyaksandr Lukashenka on January 14 accusing Moscow of seeking to take over Belarus.
Lukashenka was referring to a plan to create a union state with Russia, Belarus's long-standing ally.
(AP, AFP)
Russia And Belarus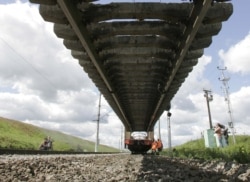 The main Moscow-Minsk railway line(Tass)

TO MERGE OR NOT TO MERGE: For over a decade, Moscow and Minsk have been working on a project to form a single state, the Russia-Belarus Union. However, every time the two countries seem on the verge of making progress, one or the other steps back, leaving the entire effort in doubt.
RELATED ARTICLES
Putin, Lukashenka Press Ahead With Unification
Has Putin Promised Lukashenka Fair Weather?
Tensions Remain In Putin-Lukashenka Talks
ARCHIVE
RFE/RL's
coverage of Belarus
. RFE/RL's
coverage of Russia
.