In comments made while voting in local elections, Lukashenka said he will not "bury the sovereignty and independence of the country."
Lukashenka was referring to a long-standing plan to create a union state. But he said Belarus had never considered the possibility of Belarus's incorporation into Russia.
Minsk and Moscow held several days of tense negotiations leading up to December 31 over the price Belarus should pay for Russian gas. It eventually led to a cut off of gas supplies and acrimonious accusations against each side.
Meanwhile, Belarusian voters cast ballots today in local elections, with some 7 million voters eligible to take part in electing members to some 1,581 local councils.
The main opposition leader, Alyaksandr Milinkevich, contended that the vote will be falsified by authorities.
Only some 200 opposition candidates were able to register for the election out of more than 22,500 candidates for posts on the local councils.
AFP reports that some 30 activists were arrested before the voting booths opened.
(AFP, AP)
Ukraine And European Energy Security
Ukraine And European Energy Security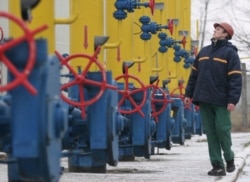 A worker inspects a gas facility outside of Kyiv (epa file photo)

MURKY CONNECTIONS. A year after the so-called gas war between Moscow and Kyiv, energy transhipments from Russia to Europe via Ukraine remain a concern. On December 1, RFE/RL's Washington office hosted a briefing featuring Tom Mayne, an energy researcher for the London-based Global Witness. Mayne discussed the lack of transparency in the energy sectors of Ukraine, Russia, and gas supplier Turkmenistan.
LISTEN
Listen to the entire briefing (about 60 minutes):

Real Audio
Windows Media
RELATED ARTICLES
Neighbors Watch As Russia Moves Toward WTO Membership
Kyiv Announces Terms Of New Russian Gas Deal
Former U.S. Ambassador Says Kyiv Can Cope With Gas Price Rise
ARCHIVE
RFE/RL's English-language coverage of
Ukraine
,
Russia
, and
Turkmenistan
.