Bush Signs Sanction Legislation On Belarus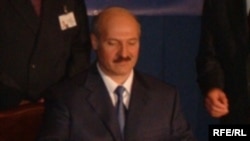 Belarusian President Alyaksandr Lukashenka (RFE/RL) January 13, 2007 -- U.S. President George W. Bush has signed into law a measure that tightens U.S. sanctions against Belarus and approves money for independent Belarusian media and democratic groups opposed to the country's authoritarian government.
The legislation, passed earlier by the U.S. Congress, renews the Belarus Democracy Act of 2004. It directs the Bush administration to deny U.S. loans to Belarus and prohibits most U.S. exports to the country.
It also includes a statement demanding release of political prisoners in Belarus, and rejects the results of authoritarian President Alyaksandr Lukashenka's reelection last March.
(AP)
RFE/RL Belarus, Ukraine, And Moldova Report

SUBSCRIBE For weekly news and analysis on Belarus, Ukraine, and Moldova by e-mail,
subscribe to "RFE/RL Belarus, Ukraine, And Moldova Report."