RFE/RL's Belarus Service is reporting that officials in Minsk have apparently cancelled the oil-transit fees imposed on January 1.
Moscow had refused to pay, and said it would not resume negotiations until the duty was scrapped.
Russia cut off supplies on January 8, accusing Belarus of illegally siphoning off Russian oil destined to Europe.
A 'Lengthy' Conversation
The Belarusian presidency said in a statement that the compromise was reached during a "lengthy" telephone conversation today between Lukashenka and Russian President Vladimir Putin.
It said the prime ministers of the two countries have been instructed to work out concrete proposals to end the dispute and present them to Lukashenka and Putin on January 12.
The Kremlin press service confirmed the telephone conversation took place at Lukashenka's request.
But the Kremlin made no mention of a deal, saying that simply that the presidents discussed "questions of economic cooperation, including in the energy sphere, among them problems with the transit of Russian oil through Belarus."
EU leaders have strongly criticized the shutdown of the Druzhba pipeline, which carries about 10 percent of the European Union's oil needs.
The dispute has disrupted oil supplies to supplies to Ukraine, Germany, Poland, Hungary, the Czech Republic, and Slovakia.
European Worries
Speaking to a news conference in Brussels today, European Commission President Jose Manuel Barroso reasserted the need for Europe to develop alternative energy sources.
"By 2030, around 65 percent of the union's energy requirements will be met by imports," Barroso said. "We have an addiction to energy, and like any addiction, it is even worse when you depend on someone else for that addiction."
The European Union is currently preparing a plan to protect energy deliveries to the 27-member bloc.
The energy row began after Belarus demanded the transit fee for Russian oil shipped across its territory. It disrupted oil supplies to several European Union countries and Ukraine.
Barroso today said both Russia and Belarus were to blame to the cut in EU supplies.
"The cut in oil supplies from Russia is unacceptable," Barroso. "I said it yesterday, and now I have to confirm it today. It is unacceptable that supply or transit countries interrupt the flow of energy to the countries that are consuming the energy without prior consultation. This raises a problem, a real problem, of credibility."
Russian officials on January 9 declined to hold talks with a visiting Belarusian delegation, saying it was not yet ready for negotiations.
Russia And Global Energy Security
Russia And Global Energy Security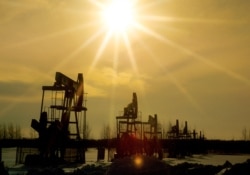 An oil field in Russia's Republic of Bashkortostan (TASS file photo)


ENERGY SECURITY is increasingly moving to the top of the EU's agenda in its dealings the outside world. A recent report identifies the European Union's main energy objectives as not just securing gas and oil deliveries from Russia, but also ensuring that it has reliable alternative sources, including in Central Asia. Nonetheless, EU officials say relations with Russia take center-stage in their thinking....(more)
RELATED ARTICLES
EU Maintains Codependent Energy Relationship With Russia
Turkmenistan: The Achilles' Heel Of European Energy Security
U.S. Official Urges Reforms In Energy-Producing Countries
ARCHIVE
A
complete archive
of RFE/RL's coverage of energy issues in the Caspian Sea region and Russia.