The shutdown is the latest escalation in a bitter trade dispute between the two former Soviet countries. While Russia claims it was forced to cut off deliveries after Belarus illegally siphoned off Russian oil, Belarusian authorities says some oil was confiscated as a form of payment for a new transit fee slapped on Russian oil shipped to Europe.
Russia has reportedly said it is not yet ready to start negotiations.
Russia on January 8 shut down the pipeline, which pumps Russian oil to Europe via Belarus. The move has either disrupted or entirely cut off deliveries to several European countries, including Germany and Poland.
Russia says it was forced to cut supplies after Belarus allegedly began stealing Russian oil destined for European clients.
Accusations Of Siphoning
Speaking to reporters in Moscow on January 8, Simon Vainshtok, the head of Russia's main state pipeline operator Transneft, accused Belarus of illegally siphoning off Russian oil.
"The Belarusian side cancelled the agreements reached on supplies of oil to its own oil refineries for the month of January. Why? Because they assumed they would be siphoning off [oil] -- unauthorized siphoning. In diplomatic language, this is how you call what the Belarusian side is doing today," Vainshtok said.
Belarusian officials have denied wrongdoing, saying they reduced the flow of Russian oil through the Druzhba pipeline to punish Moscow for failing to pay a new transit fee on Russian oil shipped to Europe via Belarus.
The dispute erupted in late December after Russia doubled the price it charges Belarus for natural gas. Russia's state-run gas monopoly, Gazprom, threatened to halt gas supplies to its Western neighbor on January 1 should it fail to accept the price increase.
Russian also imposed duties on oil exports to Belarus, which used to refine the cheap oil and sell it on to Western countries.
Gazprom Price Hike
Belarus avoided a New Year gas shutoff by accepting the price hike imposed by Gazprom. But it retaliated by imposing a hefty transit fee on Russian oil pumped via its territory.
Moscow has refused to pay, saying the fees are illegal.
Uladzimir Volkau, the deputy chairman of Belarus's state petrochemical company, Belnaftakhim, says that Belarus is ready, in principle, to restore the flow of oil to Europe.
But the ball, he says, is in Russia's court.
"I can assure you that the company is ready, both technologically and technically, as well as organizationally, to restore immediately the pumping of oil as soon as it is restored by the Russian side. The button for the pump, which can feed oil to us is currently on the territory of our union state, Russia," Volkau says.
Russia, however, has ruled out any deal on breaking the deadlock unless Belarus scraps its new transit fees.
Impact On Europe
Christopher Weafer, the chief strategist at Russia's Alpha Bank, says that by reducing the oil flow, Russia's intention was not necessarily to cut off its European clients.
"Russia reduced the flow of oil into the pipeline taking out the amount that Belarus normally gets, but it left the remaining oil that would then be transited to Germany, Hungary, Poland etc., in the pipeline," Weafer says. "Then what happened is that Belarus reacted by continuing to take its previous allocation out of the pipeline, which of course reduced the flow of oil going on to Poland, Germany, and other countries. And in reaction to that, Russia then cut the whole pipeline."
Officials at Russia's oil-transit monopoly Transneft claim Minsk siphoned 79,000 tons of oil destined for Europe on January 7-9.
Weafer says the reduction, which may have come as early as a few days ago, is no surprise for energy market-watchers. He says it's largely the result of a long-standing failure by Moscow and Minsk to hold much-needed negotiations on energy tariffs due to strained political ties.
According to Weafer, Belarus may even have deliberately sparked the shutdown by siphoning off oil in the hope that Europe would intervene.
"My guess is that by siphoning off oil from the pipeline, they [Belarusian authorities] absolutely knew that Russia would cut the oil flow into the pipe, because it said it would," Weafer says. "So what I suspect is that Belarus has done this deliberately in order to try and provoke a reaction from Europe -- a political reaction, perhaps -- that would put pressure on Russia to come to a deal with Belarus based on more favorable terms than the ones Russia has imposed. I think that's the game they're playing at."
So while the circumstances surrounding the shutoff remain vague, what is clear is that Europe is feeling the brunt of the dispute.
The International Energy Agency (IEA) is calling for a speedy resolution to the disruption of Russian oil deliveries.
The agency, however, says Europe is capable of dealing with the interruptions, and can draw on strategic oil reserves if necessary.
Energy Commissioner Andris Piebalgs is due to meet German Chancellor Angela Merkel in Berlin today for talks aimed at solving the crisis. Merkel said today she will travel to Moscow on January 21 for talks with Russian President Vladimir Putin about the energy row.
Russia And Belarus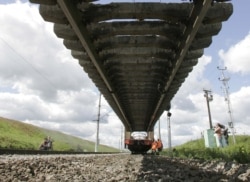 The main Moscow-Minsk railway line(Tass)

TO MERGE OR NOT TO MERGE: For over a decade, Moscow and Minsk have been working on a project to form a single state, the Russia-Belarus Union. However, every time the two countries seem on the verge of making progress, one or the other steps back, leaving the entire effort in doubt.
RELATED ARTICLES
Putin, Lukashenka Press Ahead With Unification
Has Putin Promised Lukashenka Fair Weather?
Tensions Remain In Putin-Lukashenka Talks
ARCHIVE
RFE/RL's
coverage of Belarus
. RFE/RL's
coverage of Russia
.