The announcement of Merkel's planned visit comes amid an energy row between Russia and Belarus that resulted in a suspension of Russian oil supplies to Europe.
Speaking after talks with European Commission President Jose Manuel Barroso in Berlin today, Merkel said the halt in oil supplies underlined the need to guarantee European energy security.
"First, naturally, considering the current situation, we have spoken about it, that this interruption of energy again has shown how important the issue of energy security is," Merkel said. "We have the same view, the commission president and I, that we have done the right thing to discuss the issue of energy security again and again."
Separately in an interview today, Merkel said Germany must find ways to cut its dependence on a single source of oil and natural gas.
She suggested one possible way to achieve that was to rethink Germany's plans to phase out its nuclear power plants by 2020.
(AFP, Reuters)
Russia And Global Energy Security
Russia And Global Energy Security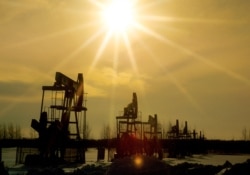 An oil field in Russia's Republic of Bashkortostan (TASS file photo)


ENERGY SECURITY is increasingly moving to the top of the EU's agenda in its dealings the outside world. A recent report identifies the European Union's main energy objectives as not just securing gas and oil deliveries from Russia, but also ensuring that it has reliable alternative sources, including in Central Asia. Nonetheless, EU officials say relations with Russia take center-stage in their thinking....(more)
RELATED ARTICLES
EU Maintains Codependent Energy Relationship With Russia
Turkmenistan: The Achilles' Heel Of European Energy Security
U.S. Official Urges Reforms In Energy-Producing Countries
ARCHIVE
A
complete archive
of RFE/RL's coverage of energy issues in the Caspian Sea region and Russia.