Speaking on the first day of a two-day conference on energy security in Brussels, Solana said Europe must forge a united energy policy or face being left behind by rivals.
"The scramble for territory of the past may be replaced today by the scramble for energy," Solana said. "We have to take our energy from where we find it. Although energy markets are increasingly global, much of the world's gas and oil reserves are in unstable and, often, undemocratic parts of the world."
He also warned competition for energy could limit the bloc's ability to push its foreign-policy objectives, such as human rights and good governance.
The EU also urged Russia and other neighbors to commit to long-term energy contracts that will guarantee them customers and investments while securing affordable oil and natural-gas supplies for the EU in the decades ahead.
European Commission President Jose Manuel Barroso called Russia an important energy partner, but said it is not, and should not be, the EU's only one.
(Reuters, AFP, dpa)
Russia And Global Energy Security
Russia And Global Energy Security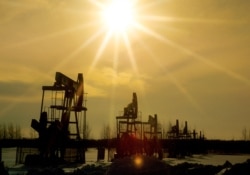 An oil field in Russia's Republic of Bashkortostan (TASS file photo)


ENERGY SECURITY is increasingly moving to the top of the EU's agenda in its dealings the outside world. A recent report identifies the European Union's main energy objectives as not just securing gas and oil deliveries from Russia, but also ensuring that it has reliable alternative sources, including in Central Asia. Nonetheless, EU officials say relations with Russia take center-stage in their thinking....(more)
RELATED ARTICLES
EU Maintains Codependent Energy Relationship With Russia
Turkmenistan: The Achilles' Heel Of European Energy Security
U.S. Official Urges Reforms In Energy-Producing Countries
ARCHIVE
A
complete archive
of RFE/RL's coverage of energy issues in the Caspian Sea region and Russia.