RFE/RL: Is it possible for Europe ever to have security in energy matters, considering it must be imported from somewhere?
Robert Larsson: It depends on what you mean by energy security. In my book, energy security encompasses more than just security of supply. It's crucial, therefore, to include more parameters than just security of supply. We must also take into consideration the political dimension, and look at the price mechanism to be the guiding factor in this case. We must open up so that the market becomes transparent. Otherwise confidence will forever be ruined, and it would be impossible to reach the political side of energy security.
RFE/RL: Europe doesn't want to couple its future too closely to Russia. But what other alternatives are there?
Larsson: I don't believe that we have many alternatives to Russia. Therefore, ensuring that Russia is moving in the right direction is one of our key objectives. So far, Russia has not been moving in the right direction. In a democratic sense, in an economic sense, it's a very unstable state, and this is a worrying trend.
RFE/RL: Surely then we should be cautious and try to develop other sources of energy?
Larsson: Yes, of course, we can't find one solution to all the problems. Diversification is one [solution], energy efficiency is one, moving toward price mechanisms instead of politics is one, more transparency is one, and all [these strategies] together will improve the situation.
RFE/RL: What can we do to defend our supply lines, in a military sense, against the possibility of increasing terrorism?
Larsson: Well, we must remember that the prime threat to the security of supply in the short-term perspective is not terrorism, or even politics. It's Mother Nature. That's the biggest problem -- shortage of supply. But most of our political attention is directed toward the threat of terrorism. But terrorism is only a minor problem in the short-term perspective. It's easier to cope with that than to cope with political unreliability or a deficit in gas.

Prague Energy Forum, October 23-24
Prague Energy Forum, October 23-24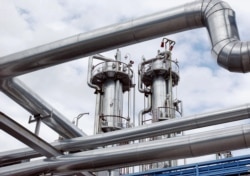 An oil refinery in Western Siberia (TASS)

STABILITY AND SECURITY: On October 23-24, RFE/RL and the Warsaw-based Economic forum cosponsored the Prague Energy Forum at RFE/RL's Prague broadcasting center. The Energy Forum brought together nearly 100 experts and policymakers from Europe, Central Asia, and the Middle East to discuss key issues of energy supply and security in the years to come.
HIGHLIGHTS: RFE/RL presents some of the key presentations from the Energy Forum and interviews with some participants:
Czech Premier Urges Reduced Energy Dependence On Russia
Interview: Nature A Bigger Threat To Security Than Terrorism
Russia Can Boost Security Through Transparency
Interview: Russian Expert Addresses Europe's Security Concerns
U.S. Official Outlines Concerns About Iran's Nuclear Program
Iranian, Western Experts Spar Over Tehran's Nuclear Ambitions
Experts Ponder Future 'Gas Wars'
Former U.S. Ambassador Says Kyiv Can Cope With Gas Price Rise
Interview: Tbilisi Bent On Energy Independence


MORE: Click on the image to see the conference program, participant list, and other materials.