RFE/RL: There are strong concerns that the current political crisis between Georgia and Russia could result in Russia cutting energy supplies to Georgia this winter, just like it did to Ukraine last year. How likely is a Russia-Georgian energy crisis?
Irakli Ghvaladze: Our government is already prepared. We have alternative energy sources; we've installed new power-generating units in our electricity plants. So we're more or less ready for this winter. Considering the current situation between Georgia and Russia, it's very probable -- we're literally under blockade. Georgians are being thrown out of Russia.
RFE/RL: Georgian President Mikheil Saakashvili in January called on his government to ensure that by 2009 Georgia no longer relies on Russia for energy. Is this a realistic prospect?
Ghvaladze: What our president called for is absolutely necessary. We need to diversify supplies and find alternative energy sources in order to achieve energy security and not depend entirely on Russian supplies. Energy security is a very important issue for Europe, Central Europe, and former Soviet countries. Unfortunately, one must note -- and this issue was raised today at the forum -- that the European Union doesn't have a united approach. The new European Union members have a tough stance, whereas Germany and other countries are more indulgent toward Russia.
RFE/RL: Do you think Georgia will be able to secure energy supplies without yielding to Russia's ambitions to control part of Georgia's gas-pipeline network?
Ghvaladze: A gas pipeline runs through our territory from Shakh Deniz [in Azerbaijan, to Erzurum in Turkey] and we will receive gas for the transit. Negotiations with Iran on the possible delivery of Iranian gas to Georgia are also under way. So we're prepared for this winter. For the upcoming years, we have an extensive energy-development program. Georgia is a very rich country. We have great water resources, and we have plans to open new powerful hydro plants so that we don't entirely depend on Russia.
RFE/RL: The Baku-Tbilisi-Ceyhan pipeline, which pumps oil from Azerbaijan to Turkey via Georgia, was launched in May. How will this pipeline change the energy and geostrategic situation in the region?
Ghvaladze: Of course, this will change the geopolitical situation in the region because Western countries are interested in the stability of Georgia, since it is a transit country -- important communications and gas and oil pipelines run through it. This considerably raises the role of Georgia. Russia has attempted to prevent these pipelines from running through Georgia. But this oil pipeline was launched, and I think when the gas pipeline is completed this region will become more stable.
RFE/RL: Tbilisi recently proposed building a 700-kilometer gas pipeline linking Georgia to European countries via Ukraine. What are the chances of this project coming to life?
Ghvaladze: This project is being discussed. It is also a key alternative for delivering energy to Europe. The main energy resources today are in Russia, Iran, the Middle East, the eastern part of Azerbaijan, and Central Asia. Pumping energy from Central Asia to Europe via Georgia would be a safer option both for Europe and these countries.
Russian Sanctions On Georgia
Russian Sanctions On Georgia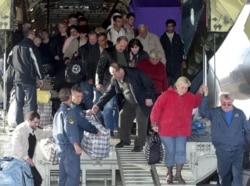 Georgian deportees arriving in Tbilisi on October 6 (epa)
RUSSIA DEPORTING GEORGIANS. Despite Georgia's release of four military officers accused of spying on October 2, Russia has continued its transport and postal blockade of Georgia, and has also deported hundreds of Georgians.... (more)
RELATED ARTICLES
Council Of Europe Head 'Concerned' About Reports Of Russian Sanctions
'No Time To Send Ambiguous Messages'
Ethnic Russians Feel Insulated From Tensions
Explaining West's Muted Response To Crisis
MORE: Coverage of the situation in Georgian from RFE/RL's Georgian Service and in Russian from RFE/RL's Russian Service.
ARCHIVE
RFE/RL's English-language coverage of
Georgia
and
Russia
.