Topolanek was speaking at a news conference on the sidelines of the Prague Energy Forum, organized by RFE/RL in partnership with the Warsaw-based Institute for Eastern Studies.
Topolanek said Russia -- by controlling oil and gas fields and trying to extend its control over distribution networks -- is using energy as a political tool to further its geopolitical aims.
He urged EU states to act together to seek alternate energy suppliers.
"This pressure from Russia is causing a lot of anxiety, and that is why the European Union should not stop trying to diversify its energy supplies, whether in terms of [using] other [oil and gas] fields or supply routes," Topolanek said. "I think not doing so would be a big mistake. Such mistakes are made once in a century. And I think such a mistake would be fatal."
Topolanek criticized controversial plans for a pipeline under the Baltic Sea linking Russia and Germany, calling it more of a "threat" than an advantage.
The Czech prime minister also predicted a resurgence of nuclear power in Europe, which he welcomed as an alternative.
"I think new nuclear technologies are the future of Europe," he said. "I was in Finland when they decided to build a new nuclear reactor. This was the right decision, and it was tied to lowering Finland's energy dependence and raising the diversification of its energy supplies."
The Prague Energy Forum is a two-day event featuring leading industry experts and academics.
Russia And Global Energy Security
Russia And Global Energy Security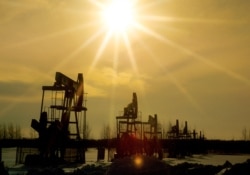 An oil field in Russia's Republic of Bashkortostan (TASS file photo)


ENERGY SECURITY is increasingly moving to the top of the EU's agenda in its dealings the outside world. A recent report identifies the European Union's main energy objectives as not just securing gas and oil deliveries from Russia, but also ensuring that it has reliable alternative sources, including in Central Asia. Nonetheless, EU officials say relations with Russia take center-stage in their thinking....(more)
RELATED ARTICLES
EU Maintains Codependent Energy Relationship With Russia
Turkmenistan: The Achilles' Heel Of European Energy Security
U.S. Official Urges Reforms In Energy-Producing Countries
ARCHIVE
A
complete archive
of RFE/RL's coverage of energy issues in the Caspian Sea region and Russia.