The Research Institute for the Economics of the Gas Industry, NIIGazekonomika, determined in its late 2005 report that domestic consumption of natural gas is increasing at a faster pace than projected in Russia's two-year-old Energy Strategy.
Gazprom's reported lack of investment into new gas fields and pipeline construction have been widely seen as a potential danger to European energy security.
The company, a fully owned subsidiary of Gazprom responsible for researching economic and management issues, stated that Russia should focus on developing new gas fields in the Yamal Peninsula and other locations in order to meet future domestic demand.
Failure to do so could have a seriously detrimental impact on Russia's future economic growth, the report warns.
Threat To Europe's Supply?
But ensuring domestic supplies would also require that Russia decrease exports of natural gas to European markets, according to the report, which notes the potential consequences for the CIS, Asian-Pacific, and European gas markets.
It appears that Gazprom commissioned NIIGazekonomika to conduct its study as part of the ongoing debate in the West and in Russia about the real state of the Russian natural-gas industry.
Gazprom's reported lack of investment into new gas fields and pipeline construction have been widely seen as a potential danger to European energy security. Such concerns have prompted Western European governments to demand that Gazprom's export pipelines be opened to independent gas producers to prevent future shortfalls.
Russia, however, has rejected European pressure and the State Duma recently passed legislation that further strengthens Gazprom's monopoly on gas exports.
Gazekonomika concluded that:
-- Russian domestic gas consumption is rising faster than projected in Russia's Energy Strategy, which was announced in May 2003 and is the foundation of the country's energy designs through 2020. The new Gazekonomika study estimates that by 2030 domestic demand will be approximately 654 billion cubic meters (bcm) per year, compared to the Energy Strategy's estimate of 436 bcm.
-- Gas-conservation technologies are not being implemented and the Russian economy remains highly energy intensive.
-- A dangerously narrow gap exists between the cost of production of gas and its domestic price.
New Data
The new study also states that the projections of the Energy Strategy are based on data from the 1980s that, the study's authors claim, are not reliable.
Other projections of the Russian gas industry, such as one conducted by Gazprom in 2004, also do not reach the consumption levels estimated by NIIGazekonomika.
The 2004 Gazprom study projected that domestic consumption of gas in Russia in 2020 will reach 525 bcm, while the new study places this figure at 560 bcm.
Russia has already shown marked increases in domestic gas consumption -- rising by 17 bcm from January 2004 to the end of 2005.
"Taking into account the objective results, in the future one cannot discount the growing internal demand for gas," the NIIGazekonomika study states. "The fulfillment of any of the scenarios presented can potentially lead to an inability by Russian Federation producers to meet demand for gas in both domestic and foreign markets. This situation in turn can prevent double-digit Russian GDP growth and can disrupt gas export obligations."
Central Asian Competition
Furthermore, the new study projects that by 2013 Russian gas exports will begin to be pushed out of the European market by Central Asian producers. The study projects that by 2013 the amount of Russian gas replaced by Central Asian gas could total 10 bcm; in 2014, 24 bcm; in 2015, 30 bcm; and by 2030, 56 bcm.
If this were to take place, domestic demand would be met, but the Russian budget could stand to lose tax revenues and hard-currency reserves. The study forecasts cumulative losses of up to $110 billion.
This, however, is not seen as a tragedy. In fact, the Gazekonomika report recommends that the Russia government intensify development of its own gas resources by lowering exports to European markets and "allowing" Central Asian gas producers to fill the gap.
The long-term benefits of developing new gas fields in the Yamal Peninsula and the fields in Obskoy and Tazov are thus deemed by the report to be Russia's highest priority in the energy sector. Such development would significantly decrease the need for huge investments into the gas industry while allowing domestic production to continue without major disruptions. Plans of how to proceed with this strategy are presently being developed by Gazekonomika.
Russia And Global Energy Security
Russia And Global Energy Security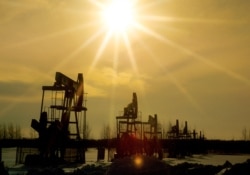 An oil field in Russia's Republic of Bashkortostan (TASS file photo)


ENERGY SECURITY is increasingly moving to the top of the EU's agenda in its dealings the outside world. A recent report identifies the European Union's main energy objectives as not just securing gas and oil deliveries from Russia, but also ensuring that it has reliable alternative sources, including in Central Asia. Nonetheless, EU officials say relations with Russia take center-stage in their thinking....(more)
RELATED ARTICLES
EU Maintains Codependent Energy Relationship With Russia
Turkmenistan: The Achilles' Heel Of European Energy Security
U.S. Official Urges Reforms In Energy-Producing Countries
ARCHIVE
A
complete archive
of RFE/RL's coverage of energy issues in the Caspian Sea region and Russia.